Pangolin Diamonds Corp, the TSX-listed diamond exploration company said a percussion drill programme has commenced at its wholly-owned Motloutse Diamond Project and could be completed within the next two weeks. The company said the results from the drill programme will be announced once all material submitted to laboratories in Canada have been analysed.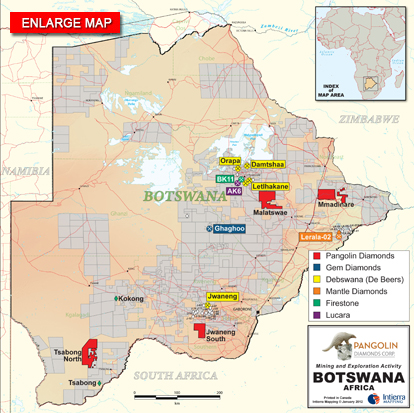 "The kimberlite targets are inclusive of AGA-01, an aeromagnetic and gravity anomaly associated with positive sub-angular kimberlite indicator minerals recovered at surface and MG-08 with an anomalous concentration of positive kimberlite indicator minerals recovered at surface, as both previously announced respectively (see releases May 31, 2016 and June 13, 2016).," it said.
The Motloutse Diamond Project covers the area where the first diamonds in Botswana were recovered in 1959.  It also includes the location where De Beers discovered its first diamonds in Botswana in 1962. The kimberlite source(s) of these diamonds have never been located.
Malatswae diamond project update
The company's wholly-owned Malatswae Diamond Project, where 13 diamonds have been recovered at surface, and located 105 km southeast of the Karowe Diamond Mine of Lucara Diamonds in Botswana is scheduled to be drilled in the second half of 2016. The Company's treasury is fully funded and in the budget to complete this drill programme.