Tlou Energy Limited, the unconventional gas explorer has received an initial Independent Reserve Certification from SRK Consulting (Australasia) Pty Ltd for the Lesedi CBM Project located in prospecting licence PL002/2004 in Botswana.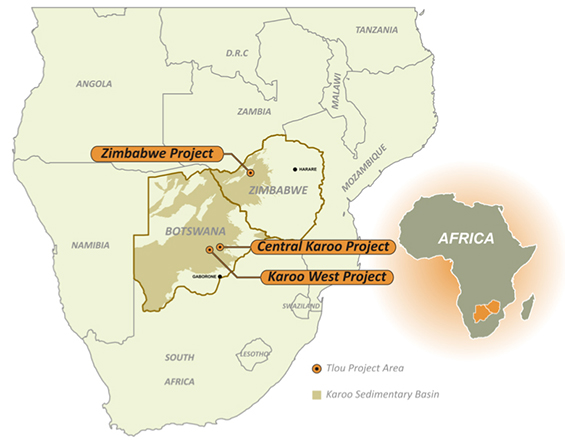 According to the company, the initial reserve certification is a major milestone and demonstrates the commerciality of the Lesedi CBM Project. Executive Director Gabaake Gabaake said as the first in Botswana to attain independently certified CBM reserves, they are in a very strong position to progress the project further for the benefit of 'our shareholders and to bring a much needed and clean source of power to the people of Botswana'.
"Our plan is to now continue to build reserves and upgrade the category of these reserves as further production data from Lesedi is collected. The initial reserves assessment is based on the production data obtained to date from the three pilot production wells in the Selemo Pilot and extrapolating this production data over a potential field development at Selemo to support a 50MW power generation project," Gabaake said.
"It is also pleasing to note that SRK has indicated in their independent reserves report that the produced gas from the Selemo Pilot is capable of supporting an economic development for the Lesedi Project," he added.
According to Gabaake, it has been a very important and successful period for the Company over the past few months, with funding secured through the recent placement, our Environmental Impact Statement approved and now independently certified reserves booked.
:These are significant steps in our aim to become a mid-tier gas to power producer in southern Africa and I look forward to updating the market further as we build upon this success."
In accordance with the Society of Petroleum Engineers ("SPE") 2007 Petroleum Resource Management System ("PRMS") Guidelines as well as the 2011 Guidelines for Application of the PRMS approved by the SPE, SRK have attributed Gas Reserves to Tlou's 100% interest in Lesedi using the deterministic method of petroleum reserves estimation as at 26 September 2016 as set out in Table 1 below (in billion cubic feet (BCF).
SRK has consented to the information in this announcement being released. Additional information in relation to the Gas Reserve estimates for PL002/2004 (Lesedi CBM Project), which is the subject of this announcement, and required to be disclosed pursuant to Chapter 5 of the ASX Listing Rules, is set out in Appendix 1 of this announcement.
The Lesedi Reserves Statement received from SRK represents an initial independent certification that is based on geological, drilling and production data obtained from Lesedi to date and relates only to the Lower Morupule coal seam.
The assessment of Proven (1P) Reserves was provided in the area of the Selemo Pilot only, whereas the assessment of Probable and Possible (2P and 3P) Reserves relates to a wider area identified by SRK as the Lower Morupule Gas Fairway which is proposed to be developed by Tlou to support the development of a 50MW power generation project.