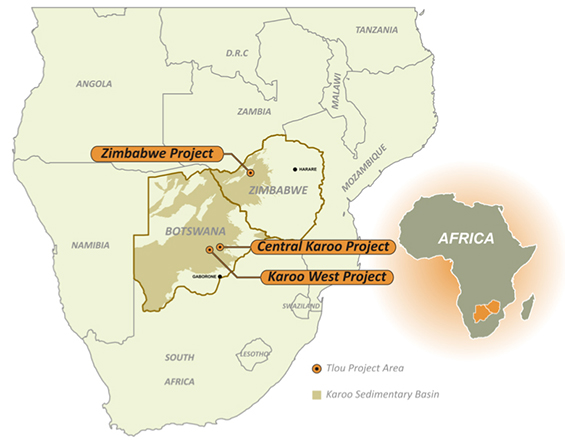 The Botswana and Southern Africa's focused natural gas explorer, Tlou Energy, said it has signed a Gas Sales Co-operation agreement  with CNG Holdings (Pty) Ltd—in a move that provides framework for the sale of gas for power generation and to industrial customers via compressed natural gas.
According to listed company, the two parties will target industrial users in Botswana that currently utilise imported fuels such as diesel or LPG. Tlou Energy will provide further details as binding agreements are finalised.
The deal will help in delivery of Tlou Energy's proposed gas to power (GTP) project to supply local power generation from pilot well ramp up gas, expansion of the proof of concept GTP project to supply up to 30 megawatts per annum of power generation either to the local grid or directly to industrial customers in Botswana.
Equally, the agreement provides a framework for the delivery sale of gas by Tlou Energy to CNG Holdings (or nominated subsidiaries) for compression, transport and on-sale of CNG to industrial customers in Botswana and South Africa via road transport.
Tlou Energy Managing Director, Tony Gilby said the move is an important milestone for his company in forming a partnership with CNG Holdings, which is currently supplying gas to industrial customers in South Africa where there is a substantial lack of access to natural gas due to pipeline network constraints.
"Together we are looking to replicate this success and business model in developing the gas market in Botswana," Gilby stated.
"The partnership of Tlou Energy (with its significant gas resource and upstream experience) and CNG Holdings (with its expertise in CNG logistics and gas sales to industrial customers) represents an exciting opportunity to commercialise gas in Botswana."
Tlou Energy added that it was continuing to progress its other gas commercialisation strategies, particularly supply of gas to the existing 90 MW Orapa Power Station (via a current expression of interest process with Botswana's Ministry of Minerals, Energy and Water Resources) and proposed new gas-fired generation projects.
CNG Holdings was established in 2008 to supply natural gas as an alternative energy source for industry and fuel for vehicles in South Africa and it operates three separate business units.
These are Virtual Gas Networks (Pty) Ltd that transports CNG by road to customers who are not on the existing gas pipeline network; NGV Gas (Pty) Ltd, which supplies fleet owners, trucks, taxis and cars with natural gas via NGV gas filling stations, retrofits existing traditional filling stations and provides in-house natural gas filling facilities.
The other business unit is CNG Technologies (Pty) Ltd which supplies CNG equipment, advice and support to help industrial users and transport owners convert to natural gas. It also converts traditional vehicles to run on gas and services natural gas vehicles.