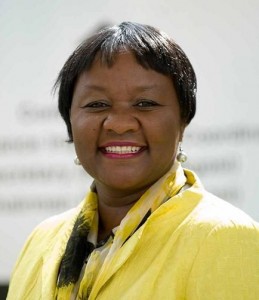 The Botswana Investment and Trade Centre has launched its Corporate and Brand strategies as the organisation begins its new life outside Botswana Export Development and Investment Authority and Botswana International Financial Services Centre, the two agencies that were merged in last year.
The launch of the new look image coincides with BITC first anniversary, a journey that began on April 1, 2012 when BEDIA and IFSC merged as a result of the Government Rationalization Strategy. BITC Board Chairman Victor Senye said the first board challenge was to bring the agency off the ground, institutionalize it and develop sound processes and systems that would propel service excellence and an investor friendly environment.
"Central to these processes was to develop a corporate strategy, that also defines the organization culture and ensure effective change management process and transformation to achieve our ambition of being the leading IPA and trade promotion agency," noted Senye.
"At the heart of our new strategy, which aims to transform BITC into a 3rd Generation IPA, as delivered by the Acting CEO Mr Letsebe Sejoe,  is intensive stakeholder engagement, which will ensure the success of an integrated and aligned economic diversification strategy, a competitive business environment, internationally competitive national service standards and turnaround times, a globally competitive ease of doing business and effective stakeholder consensus around branding, investment promotion and export and trade promotion," he noted.
Senye said BITC aims to engage in extensive networking and effective lobbying to industry players, key decisions makers and government with special emphasis on policy advocacy to influence investor friendly regulatory frameworks, and fundamentally this will profoundly rely on the support from stakeholders.
"I now challenge you as BITC stakeholders to work with us in removing 'barriers' to entry for investors hence creating real value for investors and facilitate speed and quality of service delivery to investors and exporters. Working together will enable our business environment to be competitive and allow for Botswana to attract the right calibre of investors."
Senye—the former CEO of Bifm, Botswana's biggest asset management company warned that FDI attraction as a highly competitive agenda requires alignment with best practices and benchmarking in order to remain ahead of competition.
He added that the World Bank, the International Trade Centre and indeed many other local and international organisations have provided BITC with mechanisms to guide the agency through this process of achieving excellence as we aspire and unearth potential to be the leading IPA in Africa.
He said as BITC, they are privileged to have the Nation Brand at their disposal. The nation Brand seeks to position Botswana to international audiences as an attractive place to visit, work and invest. "It highlights our national asserts, including our people, our culture, tourism attractions, business potential and our reputation as a country with good governance.  Fundamentally, the Nation Brand is meant to market/position Botswana as a whole and in its totality to include all the other sectors of the economy. As an IPA brand we depend largely on the country's positioning and gain a lot of mileage from perceptions about the country, a role that can be efficiently managed through the Nation Brand," he said.
He added that similarly, attracting inward investment business across all sectors depend could hugely benefit from platforms and a foundation laid by Brand Botswana.  "I therefore call upon the private sector, all Parastatals and Government to leverage on Brand Botswana to advance the Nation's promotional and trade agenda."
The launch of the new brand took place at Lansmore Hotel in Gaborone where the Trade and Industry Minister, Dorcas Makgato-Malesu praised the captains of industry who attended the event.
"This, therefore, gives me confidence that BITC appreciates this and is aware that it is only through working collectively with key stakeholders that they will be able to deliver on their mandate. This event therefore, is seen as building a foundation with solid relationships that will see BITC moving forward," the minister, a former BEDIA CEO said.  BITC has been hailed as the first successful merger of government entities doing duplicate roles.
The Botswana IFSC was established in 2003 to establish and develop Botswana as a world-class hub for international financial and business services into the region and further afield. Since its inception, had attracted a cumulative P13 billion worth of FDI and created 300 jobs.
BEDIA was equally established in 1997 to promote Foreign Direct Investment (FDI) into Botswana, promote locally produced goods in the regional and international markets and improve the Botswana's investment climate through policy advocacy.
BEDIA since inception had managed attract and facilitate P3, 599.875 billion worth of Foreign Direct Investment (FDI) (includes domestic investment and expansions) into Botswana creating 16 160 jobs.
"Ladies and gentlemen, I am proud to declare that BITC is among the first, if not the first successful merger of Parastatals in Botswana," Makgato-Malesu said.