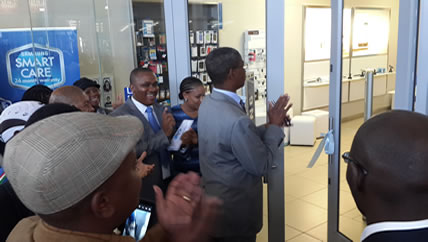 June 12, 2013,  marked the official opening of the brand's Rail Park Mall Samsung Botswana store. Operational since November 2012, the store was officially opened by Honorable Minister of Transport and Communication, Nonofo Molefhi.
The event attracted a number of key guests as well as stakeholders. In attendance were Honorable MP Gaborone West South, Botsalo Ntuane who gave the vote of thanks, Hon. Justice Mike Mothobi, CEO of Botswana Railways, Dominic Ntwaagage, and Amelia Molebane. In addition, the event attracted local personalities including Vee, Dipsy, Mafia Soul's Molf, BK Proctor, and T.H.A.B.O.
Noted Mrs. Thato Raletsatsi, Samsung Rail Park Mall Director, "We've seen a great welcome since we established the store in Rail Park Mall and we are excited to celebrate that and a pleasing performance thus far with today's official launch. This also gives us an opportunity to assess our strategy and objectives thus far as a business and identify ways to leverage off and strengthen that. We thank Samsung Group for giving us the opportunity to participate in this technological revolution. It has been an exciting journey so far and we look forward to continuing this journey."
The decision to open a store at Rail Park Mall came as part of Samsung's aggressive growth strategy in Botswana, with additional branches already opened in Game City (Gaborone), Airport Junction (Gaborone) and an additional two branches in Francistown. The Rail Park Mall store, opened to customers in 2012, has already seen increased exposure for the brand.
Samsung Botswana is a part of Samsung Group worldwide whose industry legacy spans over 70 years. Samsung Electronics has, at Group level, evidenced a strong commitment to being the world's best electronics company. The brand has won the No.1 global market share for 13 of its products, including semiconductors, TFT-LCDs, monitors and CDMA mobile phones.
The Rail Park Mall store stocks a full range of Samsung electronics and accessory products, ranging from hand held products (HHPs) to consumer electronics and digital appliances. Samsung employs young Batswana people across the country, with the Rail Park Mall store staffing 8 young Batswana at present and having brought its own sense of value to the centre.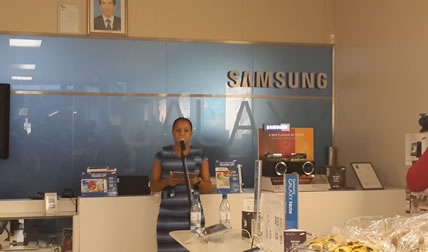 Samsung's focus in Botswana lays in forging local partnerships to run stores such as that of Rail Park Mall, the first SES, with Francistown being the second. The brand plans to launch 8 more SESs in areas like Francistown, Mahalapye, Palapye, and Maun, ultimately aiming to have 10 SESsin Botswana.
Concluded Topollo Pilane, Samsung Key Account Manager – Mobile (HHP), "SESs are not only retail outlets where Batswana can buy HHP & IT products, but also serve as a vicinity where interested members of the public can visit the Samsung brand to have a full look, touch, and feel experience of it. Samsung has deliberately focused on Africa as a growth opportunity, with Botswana being no exception. Responding to our market and customer needs is of high priority at Samsung. We wish Future Sustain all the best in running this store, and hope that all stakeholders experience the intended mutual benefit."