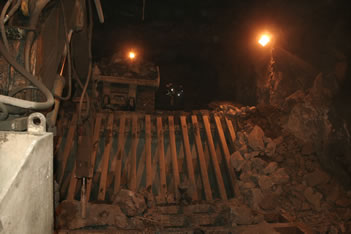 Botswana is currently the gem of African mining, with a stable legislative environment, and backed by an eager government looking to grow its gross domestic product (GDP). Mining contributions to GDP have already grown to 40%, and mining contributes 50% to tax revenues.
Botswana is now the world's leading diamond producer in terms of the quality and grade of diamonds, but also hosts significant copper, nickel, cobalt, gold, soda ash and coal deposits, which are currently being exploited and developed.
Botswana is also the highest ranked African country in Business Environment Rankings, as a result of its stable political situation and well-developed mining sector, backed up by a sound regulatory framework. Botswana's thriving mining sector makes it the natural choice for the expansion of Electra Mining Africa.
Following many successful years in South Africa, the largest mining exhibition in Africa, and the second largest mining exhibition in the world will launch in Botswana in September. Electra Mining Africa is a dedicated mining, industrial and power generation exhibition with global recognition as a gateway into the African mining sector.
"Electra Mining Botswana will play a vital role in growing Botswana's already thriving mining economy," says Gary Corin, Managing Director of Specialised Exhibitions Montgomery, organisers of the show.
"The broad scope of Electra Mining Botswana brings related industries together at one location for visitor and exhibitor convenience. It offers a valuable platform to showcase the latest trends and developments, technologies, products and services in all sectors of these industries, and confirms Botswana's place as a very strong player in the mining industry."
"Following a series of many successful years in South Africa, Specialised Exhibitions Montgomery, as the organisers of Electra Mining Africa, recognised a need to meet Africa's mining needs by launching Electra Mining in Gaborone in 2013," explains Corin.
Exhibitors at the show will have the opportunity to network with key decision-makers from Botswana's mining sector, position their company brand, grow their client base, and launch new products and services directly to their target market.
In South Africa, Electra Mining has enjoyed the full support of the most respected Associations and Institutions across all related industries over the years. "Botswana will be no different," says Corin.
"We will be working closely with the Department of Mining and Minerals and local Botswana industry bodies." The exhibitor profile will include mining and related products, industrial engineering and manufacturing, general engineering and manufacturing, electrical engineering, materials handling, safety, health and environment, and construction.
The show will also feature a mining conference alongside it that will provide a wealth of information and interactive discussion. Specialised Exhibitions Montgomery is recognised internationally as an organiser of innovative, inspiring and highly effective exhibitions and offers a fully comprehensive on-site exhibitor service, taking care of all logistical requirements.
Electra Mining Botswana takes place at the Gaborone Fair Grounds from 3-5 September 2013.