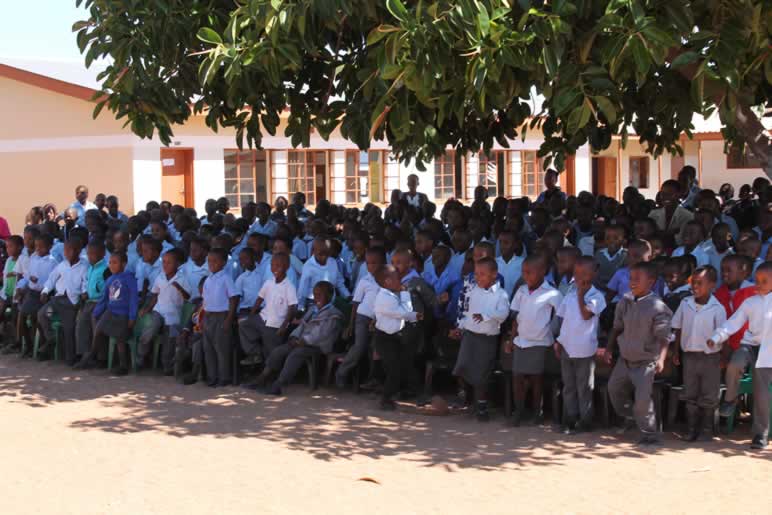 BIHL Trust continues in its efforts to make a sustainable impact in the education space, having most recently engaged with Chakaloba Primary School in Topisi village. On 12th May 2016, BIHL Trust representatives attended a Teacher Appreciation Day at Chakaloba.
The Trust also donated reading books valued at P65,000 to help the students practice and improve their reading skills. This follows on from a number of educational support initiatives championed by the Trust on behalf of BIHL Group and its subsidiaries – Botswana Life, Legal Guard and Bifm.
Previously, Chakaloba Primary School through the Adopt-A-School initiative, received from BIHL Trust in partnership with Sebilo Books, a fully-fledged library. With a student enrolment of 220 boys and 236 girls from standard one to seven, Chakaloba is one of a number of schools who have benefitted from the Literacy Training Programme championed by BIHL Trust in partnership with the Ministry of Education & Skills Development (MoESD) and Stepping Stones International. The Literacy Training Programme saw the trio take action upon learning that majority of school-going children read below the level at which they are supposed to. A number of children in Chakaloba evidenced a difficult time reading and constructing sentences in English.
Bolane, outgoing school Head, "2013 was a bad year for us as our pass rate was 45%, and we saw a lot of students dropping out of school. Since the Literacy Training Programme, we have seen that teachers and students are motivated to teach and learn. I am very proud to say that there is a now a 0% dropout rate."
BIHL Trust recognised the teachers of Chakaloba for truly embracing the Literacy Training Programme and ensuring that they utilise the course to change the lives of their students.
Kenosi, a teacher, said, "The programme has been helpful, even to those who have been said to be below average students. We have seen significant improvement in spelling, memory, leadership skills, learning sounds and words, and general construction of sentences."
Khame, Director at the Department of Curriculum Development and Evaluation, explained to all present that his office is encouraged by the fact that the teachers are motivated and that the programme continued to make a difference. As a token of appreciation, BIHL Trust honoured the teachers with certificates of recognition, and a plaque that was installed outside of the staff lounge to remind teachers on a daily basis of the impact they are making.