It is not often that upcoming comedians get to share a stage with well-established acts in their territory, let alone at a top-notch venue. This past weekend marked an interesting time in the future of the local comedy industry as more and more of Botswana's comedians are getting a break to display their talents on South African stages. In their quest to create a sustainable market and continual artist development, Major Moves Comedy secured a booking for Augustus Phillimon and Thapelo Malani at the Shampoonaiza Comedy Night at Pretoria State Theatre.
The duo recently performed at the Fresh Comedy Night in Gaborone and 4th Annual Francistown Comedy Night. Augustus, formerly known as Aromat, is a Francistown based comedian who obtained third position at the 2017 President's Comedy Competition. It was his first international comedy performance and he managed to hold his own delivering an outstanding performance. Thapelo Malani who is a visually impaired comedian was also making his debut in Pretoria, although Shampoonaiza had previously invited him to Mmabatho Convention Center in Mafikeng alongside Phenyo The Master.
The event was well attended, and was even graced by A-List South African celebrities. The headliners for the show were comedy heavyweights Robby Collins and Gavin Kelly while the host was Thapelo 'Tips' Seemise aka Shampoonaiza. According Gaolathe Kediemetse of Major Moves Comedy, "Our main aim is not only to bring top class comedians to our stages, but we have to export our talent to South Africa and other countries where they can experience different crowds. Experience is the best teacher, and we want to develop our comedians by getting them to perform on the best platforms with the best comics and ultimately be able to perform internationally frequently making a living off comedy."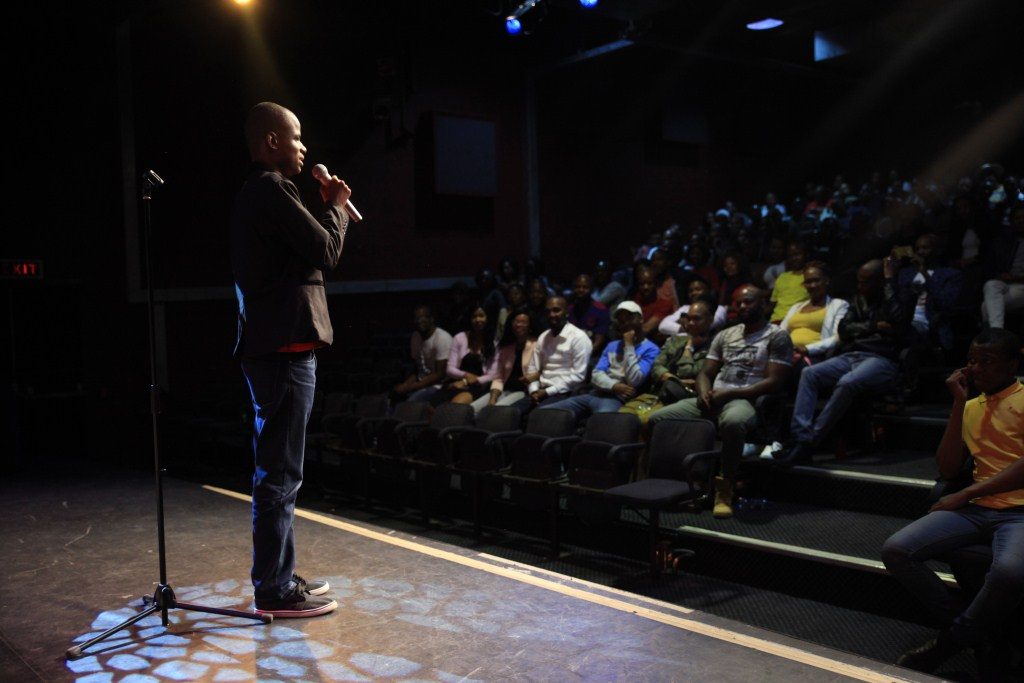 Augustus and Thapelo proved they are a force to reckon with belting out witty and humorous punch lines that left the audience in stitches. "Thapelo and Augustus have a great future in comedy if they can keep or even surpass this standard of performance. I was impressed by the growth and passion I saw while I was in Botswana for GIMC, hence I invited Phenyo The Master last month and then them this month to showcase their talent.", said Shampoonaiza. "Although it's the first time I see them perform in the State Theatre, one can clearly see that the young men are truly talented. With time the young men will surely go places and I wish them well in their endeavors", commented sports TV presenter Thomas Mlambo. Major Moves Comedy has previously taken several Batswana comedians to perform in Johannesburg, Mafikeng, Rustenburg, Bloemfontein, Lesotho, Swaziland, Namibia and will be breaking into Zimbabwe and Zambia next year.