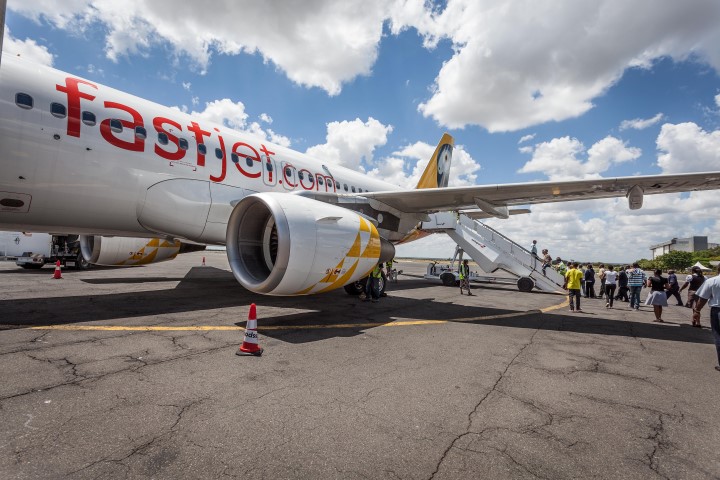 fastjet, the low-cost pan-African airline, is celebrating two years of providing low-cost air travel across Africa on 29 November 2014.
The airliner started commercial flight operations on 29 November 2012, flying passengers from Dar es Salaam to Kilimanjaro and Mwanza in Tanzania on its A319 aircraft.
Since then, the airline has expanded its network with the introduction of its third domestic route to Mbeya in Tanzania, and launched its international route network with flights from Dar es Salaam to Johannesburg in South Africa, Lusaka in Zambia, Harare in Zimbabwe and Entebbe in Uganda.
To date, the airline has carried over 870,000 passengers on 8,200 flights over a distance of nearly 6.5 million kilometres – with an impressive 90% on time performance during 2014, establishing itself as a punctual, reliable and affordable low-cost carrier.
fastjet fares on domestic routes in Tanzania start from as little as US$20 one-way, with international fares costing as little as US$50 one way, both excluding airport and government taxes. These affordable fares have seen the airline being named the cheapest low-cost carrier in Africa and the fifth cheapest low-cost carrier in the world by flight comparison site, WhichAirline.com.

With its low-cost fares, fastjet believes it is making air travel more accessible to even more Africans. Supporting this belief is the research undertaken by the airline shortly after its launch, which showed that 38% of its passengers were first time flyers who would otherwise not have been able to afford to travel by air.
"Affordable air travel is key to the growth of economies across Africa – particularly in the business and tourism sectors," says Ed Winter, fastjet's Chief Executive Officer. "It is expensive and time-consuming to build roads to connect cities, and it is inconvenient for people to travel over land.
"Even if there are existing airlines connecting two cities, the flights typically involve at least one stopover. Furthermore, the exorbitant fares charged by airlines on these routes exclude the majority of a country's citizens from enjoying the convenience and timesaving benefits of airline travel."

According to Winter, fastjet has made great strides in two short years, despite the challenges the airline has had to tackle along the way.

"In spite of major regulatory challenges encountered as we rolled out our international route expansion, the encouragement that we have received from the Tanzanian government has been remarkable – for which we are extremely grateful" says Winter.
"We believe that there is great potential for the low-cost carrier model in Africa, and we are committed to working with governments across the continent to promote the benefits of competition in the aviation sector, that will in turn lead to better fares for passengers."
fastjet continues to expand across the African continent with the airline recently announcing that its new operation – fastjet Zambia – has received an Air Service Permit (ASP) from the authorities in that country. It has also announced that fastjet Tanzania has received permission from the Uganda Civil Aviation Authority to operate flights from Uganda to Juba, Nairobi, Kigali and Johannesburg under Fifth Freedom Rights.
"There are more than one billion people on the African continent, which is home to just three percent of the world's aviation business, and the continent remains in desperate need of improved and affordable aviation connectivity," Winter says.
"This makes us extremely positive about the future, combined with our view that economic growth across the continent will continue at great pace driven by an emergent African middle class, increasing levels of discretionary income, significant growth in home-grown entrepreneurship and substantial infrastructure investment," he says.
fastjet is celebrating its second anniversary with one of its famous one-day sales to be held on 3 December 2014, offering incredibly low fares on its international and domestic Tanzanian routes.