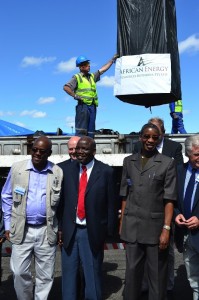 African Energy says its recently received analytical data for its Sinazongwe coal project has confirmed the potential for medium to hard coking coal fractions in the coal seams at Sinazongwe in southern Zambia.
The company revealed in an update that results for 19 samples collected from the first 4 holes (holes SNZ001, SNZ002, SNZ004, and SNZ005) have been received to date.
It added that 17 of the samples were determined to have a Free Swelling Index (FSI) above 4.5 and maximum FSI was 8.5, with a mean FSI of 6.1, indicating some potential for medium to hard coking coal.
"The Directors are highly encouraged by these results, which suggest that it may be possible to derive a medium to hard coking coal primary product and a thermal coal middling by washing the coal," said African Energy.
"Further drilling, proximate analyses and washing tests will be required to evaluate the full potential of this project."
Sinazongwe occurs in the Gwembe Valley, Zambia's only coal producing region and where a 300MW power station is currently under construction to provide electricity for the Zambian domestic market.
There were previously announced reconnaissance drilling by African Energy that discovered the presence of multiple coal seams (up to 3 seams, each being 1 ‐ 7m thick) in 8 holes drilled at Sinazongwe.
The analysis of the raw coal in these seams indicated calorific values of up to 26.2 MJ/kg (6300kcal/kg) on an air ‐dried basis, with localized bright vitrinite bands and these vitrinite rich bands have been selectively sampled and analysed for their coking potential.
 African Energy says FSI analyses of the coal seams in the remaining 4 holes are expected in the coming weeks and will be reported once received.
The Sinazongwe coal deposit occurs in prospecting licence 13646‐HQ‐LPL, which was recently renewed for a further two‐year term.
African Energy has coal assets in Botswana.