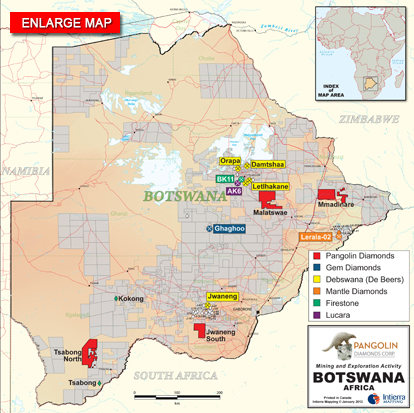 Pangolin Diamonds Corp, the Botswana focused diamond exploration company, says diamond core drilling has commenced at its Jwaneng South Project, which is one of Pangolin's four 100% owned diamond exploration projects in Botswana.
The company revealed that drilling marks the next major step in exploration of its Jwaneng South Project where it has identified more than 20 drill-ready kimberlite targets at the project area since work commenced in 2011.
The initial Kimberlite Target (GK6) now being drilled at Jwaneng South is a large circular feature highlighted by a high density vegetation anomaly spanning an area of 1.5 km in diameter.
Pangolin Diamonds Chairman, Dr Leon Daniels, said the proximity of the famous Jwaneng mine makes this project one of the top priorities of Pangolin's exploration program. "We look forward with anticipation to an aggressive drilling campaign to test an abundance of large kimberlite targets," added Daniels.
The GK6 aeromagnetic drill target covers 120 hectares and it is twice the size of DeBeers' Jwaneng mine when first discovered in 1972 and approximately the same size as their Orapa mine when first discovered in 1967.
The Jwaneng mine is the world's richest diamond mine by value and contributes 60% – 70% of Debswana's annual revenue. The mine generates approximately US$1.16 billion from 8 million carats produced annually. On the other hand, Orapa mine is the second largest diamond producing kimberlite pipe in the world.
According to Pangolin, the aeromagnetic surveys indicate the formation is near surface and the gravity lows at GK6 are the same to those associated with the Jwaneng mine diamondiferous kimberlites.
The company's diamond drill program at GK6, now underway, will consist of at least two core drill holes to a minimum depth of 150 meters. The drilling will center on two magnetic phases identified within the aeromagnetic anomaly associated with the feature visible on Google EarthTM.
"A number of other aeromagnetic and vegetation (geo-botanical) anomalies within the Jwaneng South Project are targeted for drilling during this campaign. They also exhibit magnetic positive or negative characteristics," said Pangolin Diamonds.
The Jwaneng Kimberlite field has 18 confirmed kimberlites, of which at least 6 are known to be diamondiferous and 4 are being mined. This represents a 1 in 5 conversion from exploration target to production.
The field is situated in the Southern District of Botswana, 100 km north of the South African border. On the other side, the 799 km2 Jwaneng South Project is located 50 km south of the Jwaneng mine. The Jwaneng mine was discovered in 1972 and is operated by Debswana, a joint venture company between DeBeers and Botswana government.
There is well-established infrastructure in the area with a skilled workforce, roads, power and water. Pangolin has identified more than 20 large, drill-ready kimberlite targets at its Jwaneng South Project through exploration work completed since 2011. The Project has multiple, circular crater-like features with aeromagnetic characteristics similar to those of kimberlites in the Pipe 441 area of Canada.
Enzyme-leach trace element results are consistent with orientation trace element results over known diamondiferous kimberlites from the Jwaneng kimberlite field. These results come from an independent analysis of samples by Activation Laboratories Ltd. of Ancaster, Ontario.
However, Pangolin has cautioned that information regarding the Jwaneng Mine and Orapa Mine is not necessarily indicative of the kimberlite targets being drilled by the company, and "there is no guarantee that the kimberlite targets being drilled by the Company will return diamond results of any economic significance".
Pangolin Diamonds Corp, which is building a leading diamond exploration and development company in the heart of Botswana, is the 100% owner of 11 Prospecting Licences covering 5,307 km2, including the Tsabong North, Jwaneng South, Malatswae and Mmadinare Projects.