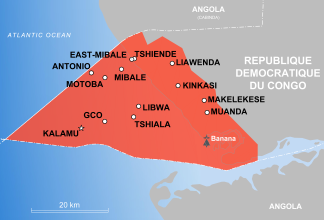 Perenco Rep and Mioc General Manager Reza Mered says the company's "win-win" partnership that it maintains with the DRC government is essential to achieve set growth targets, adding "in particular the implementation of a serene business climate and a solid and modern legal framework in respect to the commitments of the State, which guarantees stability."

Perenco Rep is the gold sponsor of the upcoming iPAD DRC Oil & Gas Forum taking place in Kinshasa from 10-11 September.  The Democratic Republic of Congo's Minister of Hydrocarbons, HE Crispin Atama Tabe, is heading up the high-level gathering which will also include government regulators, industry experts, regional stakeholders and prospective investors.

Only operator in production in DRC Perenco has been present in DRC for fifteen years through its subsidiaries Perenco Rep and Mioc. Says Reza Mered: "we operate licenses on the littoral in the vicinity of Muanda in the province of Bas-Congo with an average daily production of 25,000 barrels. We are currently the only operator in production in the country, as well as being a prominent economic and social actor contributing significantly to the DRC national budget. We also actively take part to the Extractive Industries Transparency Initiative (EITI)."

The company is currently also in the process of looking at new offshore areas to develop, says the Perenco Rep General Manager: "we count on the active support of the Ministry of Hydrocarbons and the Government to obtain the necessary authorizations of our neighbour, Angola, to conduct seismic acquisition. This campaign will enable us to identify new prospects, potentially leading to exploration drilling. This is an essential preliminary stage if we wish to increase our reserves and our production."

Perenco Rep and MIOC also have a gas valorisation project that would feed a power plant to feed the national grid. Reza Mered explains: "it is a headlight project which shows again the firm will of the company to seek and find solutions for innovative and realistic development while fulfilling the requirements of integration and respect of the environment. Perenco has expertise in the development of such projects, having already completed similar initiatives successfully in Gabon and Cameroon."

"The best is yet to come" According to Reza Mered "the oil industry in the DRC has beautiful days ahead of it. The best is yet to come."  He advises prospective investors to have "rigor, perseverance and a permanent and sincere dialogue in particular with the department in charge to ensure support for the companies in the sector that wish to invest in the country."

"The iPAD DRC Oil & Gas Forum has become one of the key events for companies operating in this sector in Democratic Republic of Congo", says the Perenco Rep and MIOC executive.