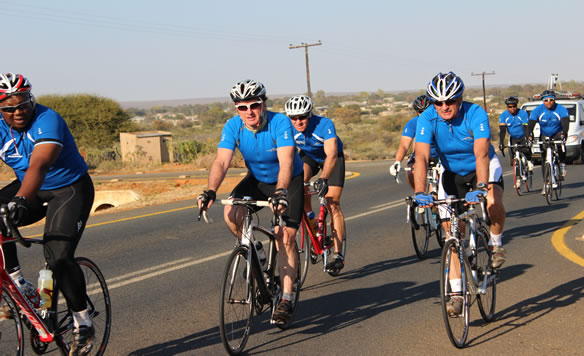 Stanbic Bank Botswana successfully concluded its recently held Chief Executive's Charity Ride. The 710km journey began in Ghanzi and culminated in arrival in Gaborone on 5th June 2013 at Stanbic Bank Head Office, Fairgrounds.
The Chief Executive Charity Ride witnessed Stanbic Bank Chief Executive, Leina Gabaraane and 5 members his management team, cycle from Ghanzi to Gaborone in a bid to raise money for local charities.
This comes as part of a continuing effort by Stanbic Bank to leave a positive footprint in communities across the nation.
The Charity Ride aims to raise funds for various local charities to be announced after the completion of the Ride. The initiative is also another opportunity for the bank to continue to contribute to the betterment of the local community.
Stanbic Bank has pledged P150, 000 and will also incur all costs associated with the event, with sponsorships and donations from customers and various stakeholders being made to date.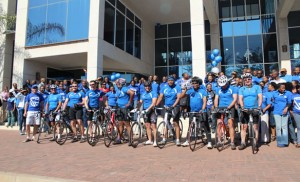 The riders' names and titles are: Tapela Mpuchane (Stanbic Bank Head of Business Banking),Leina Gabaraane (Stanbic Bank Chief Executive), Fred McDonald (MD, Travelwise), Thabo Okie (Stanbic Bank Operational Risk Manager), Joel Stead (Stanbic Bank Head of Operations), Rory Pollock (Stanbic Bank Head of Credit), Neville Van Zyl (Cycle Base), Mike Mallett (Ross Breeders Botswana), and Greg Davis (Stanbic Bank Chief Financial Officer).