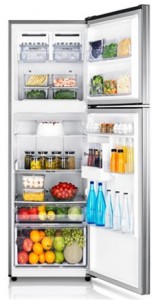 The days of a 'fridge being just a fridge' are gone forever. Today, Samsung technology is ushering in a new era in the kitchen by transforming an 'appliance' into a beautiful fixture designed to complement the demands of a modern lifestyle.
To be introduced to markets such as Botswana, Namibia, Mozambique and Namibia at the end of June 2013, the Samsung Duracool Smart fridge is the first in a new generation of fridges. It is designed to meet the challenges of domestic life and offers a fridge that harnesses digital technology for increased energy efficient operation and has more interior room and best of all, it is even resistant to power cuts, says Ms. Topollo Pilane of Samsung.
"At Samsung we understand that life is constantly changing and that the emphasis today is on convenience and as making products that are a good fit to a specific environment. Selecting a fridge is about saving money, cutting energy costs and also reducing demand for energy. This is at the top-of-mind of most South African consumers who are concerned about the environment and the constant threat of load shedding to eke out the national electricity supply.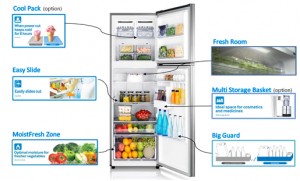 "The Smart Duracool fridge is eco-friendly and is ideal for the energy conscious consumer. It has a digital inverter with a 10-year warranty. This ensures that that if power cuts occur the advanced cool pack technology will keep food cold for up to seven hours. Because of the digital inverter feature, the fridge also uses less energy and is more durable.
"The Smart Duracool fridge is of high quality design, inside its new, modern exterior, which is built to aesthetic standards than enhance any kitchen, the Duracool Smart fridge has recessed handle 'eazi slide' shelves which can be moved to fit in with individual requirements."
Designed to complement the modern lifestyle where space is often at a premium, the Smart Duracool fridge will appeal to all young, upwardly mobile consumers who are looking for function and good looks in a premium brand fridge and freezer combination that is also renowned for its quiet operation.
"Samsung is proud to introduce the new generation Smart Duracool fridge to discerning consumers who are looking for an appliance that will serve them well for years to come, "says Pilane.