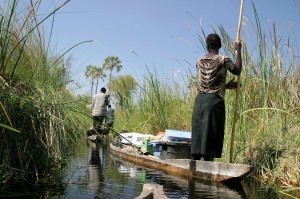 Brand Africa Global, an African network agency, is set to draw global attention to Gaborone as it launches its global African identity african.iam, along with its '200 Market' concept and inaugural Botswana 200 Business Assembly at the Gaborone International Convention Centre (GICC) on 28-29 October 2013.
The two-day event features the launch of african.iam in the evening of day one, 28 October and the Botswana 200 Business Assembly on 29 October, the second day of the event. The Chief Executive Officer and Founder of Brand Africa, Audra Wilson-Max says the african.iam is the identity of Africans; wherever and whoever they are.
"Focused on the development of African people, promotion of Africa the place and celebration of African culture, we make a deliberate choice to launch both events in Botswana and showcase this model place," Wilson-Max explained.
The Botswana 200 Business Assembly is a marketing and investment platform that positions Botswana at the centre of a drive to unlock the potential of the 200 Market and also escalate the country's local, regional, African and global reach.
Through a line-up of outstanding local, regional and international thought leaders and subject experts; the event will concentrate on addressing and stimulating the assets of Botswana and the markets in Mining, Finance, Insurance, Agriculture, Tourism and Travel underpinned by the role of technology.
The 1000 targeted delegates will be comprised of 200 individuals attending each of the five sectors. This profile of business leaders, experts, investors and media convening in Gaborone will be drawn from a combination of local, 200 Market, African and international markets.
"We are excited to be working on such groundbreaking concepts with stakeholders in Botswana. While Botswana 200 and 200 Market are concepts that will take time, they can affect perspectives and change the pace of possibility for the 200 Market as well as Africa and Africans," added Wilson-Max.
"african.iam meanwhile is a true story-for over one billion people on this continent and beyond. In bringing these assets and realities together in Botswana, we feel we have a combination capable of quickly impacting possibility".
The african.iam concept is the identity of every African and its effect is revealed in social and commercial activity where people, places, cultures, communities, organisations and initiatives exist under three anchors of: Empower African people, Celebrate African culture and Promote Africa and the Place.
Brand Africa Global is an Africa network agency focused on the value of branding and communications as critical ingredients to build compelling African brands. "There is space we see opportune and there is nothing exists like this globally," said Zimbabwe born Wilson-Max who added that she thinks the networking will promote intra Africa trade.
She said the launch in Botswana was motivated by the investment climate and that the country is at the centre of SADC's 200 million market. "It is a global event and we are trying to draw the attention of the word to Botswana".
In a bid to address the concern of hotel capacity and travel logistics, the organisers are working with Air Botswana, SAA, and SA Express to make the event work. Equally, accommodation is pre-booked.