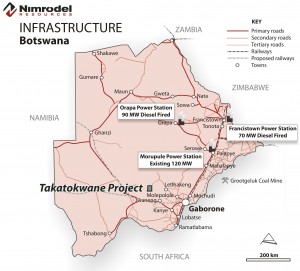 Walkabout Resources Ltd, the Perth based African focused explorer has completed Stage 2 of the Earn-In obligations for its Takatokwane South Joint Venture with Triprop Energy Pty Ltd.
The diversified copper, coal and platinum company now holds 40% of Triprop Energy Pty Ltd which in turn holds 100% of coal licences PL157/2009 and PL160/2009 in the Kweneng district of Botswana.
Triprop Energy is a Botswana based private exploration company that holds exploration
licences in the country. Pursuant to the agreement with Triprop and Walkabout's election to proceed, Walkabout will now issue Triprop with 7,462,687 shares at $0.0067 per share and a cash payment of $50,000.
In order to earn in the remaining 25% of the Project, Walkabout is required to complete a Scoping Study on the project by October 2014. So far, at the Takatokwane South Project, the company has defined an Inferred Resource of 2.65 billion tonnes and an Indicated Resource of 533 million tonnes of thermal grade coal within an overall combined Inferred Resource at Takatokwane of 6.88 billion tones making it Botswana's largest coal resource. This coal is suitable for upgrade to an export quality product.
Managing Director of Walkabout Resources, Allan Mulligan said finalising the earn-in obligations at both Takatokwane Joint Ventures is a business critical process of moving the 7 billion tonne Takatokwane Coal Project from exploration to commercial development. "We remain convinced that significant value will be realised from our holdings in this sizable asset," he said.
Walkabout operates two Joint Ventures at the Takatokwane Coal Project in the Kweneng district of Botswana.
The Company is currently engaged in a Pre-Feasibility Study over the combined Takatokwane (PL035/2007) and Takatokwane South (PL157/2009 and PL160/2009) Project.
The subject of Phase 1 of the Takatokwane Pre-Feasibility Study is the viability of a 1 million tonne per annum "starter-mine" delivering coal into the South African domestic and export market. Phase 2 will examine a large scale international export mining operation. "The starter mine concept will deliver a number of benefits including early cash flow and a low capital expenditure model that is not dependant on the development of major rail infrastructure in Botswana," said Mulligan.
In addition to the Pre-Feasibility study at the Takatokwane Coal Project in Botswana, Walkabout is also exploring at the Kigoma Copper Project in North West Tanzania and at the Makete PGE Project in South East Tanzania.