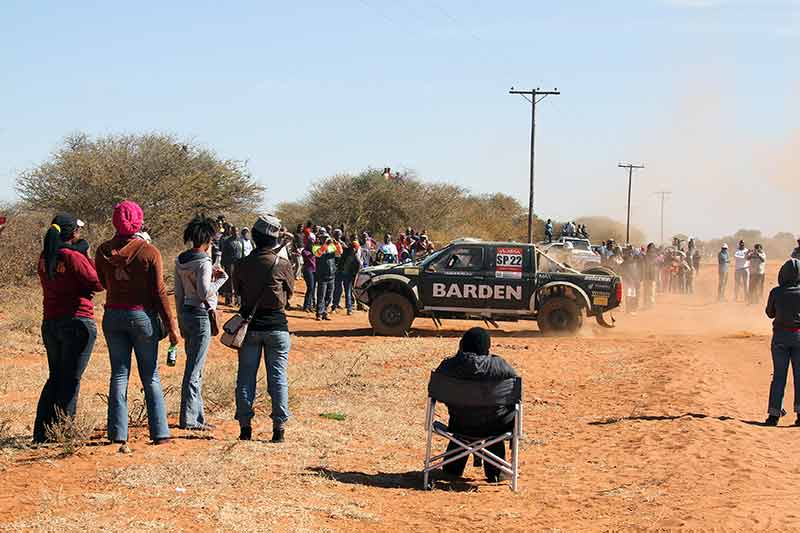 Competitors familiar with the Toyota Kalahari Botswana 1000 Desert Race will not be surprised to hear the route for this year's race, from June 26 to 28, will pose a "demanding challenge" with crews being made to work for good results on the only marathon event on the Donaldson Cross Country Championship.
The race is round three of the national series, and is highly important in the context of current standings in the Production and Special Vehicle championships. Production Vehicle title contenders need to reign in Castrol Team Toyota Hilux pair Leeroy Poulter and Rob Howie who has built up an early lead, while the Special Vehicle category overall, Class A and Class P championships are all tied.
"It is your typical Desert Race course, so there are no real surprises there," said route director Adri Roets. "But, just to make it a little more interesting, there have been late rains in the regions through which the route travels and there is plenty of long grass.
"We were at pains this year to make sure the route was laid out to enhance spectator value, and there will be plenty of support for crews at numerous road crossings and where the course runs close to isolated villages."
For the second year in a row race headquarters, the start/finish and the designated service park will be located at the Jwaneng Sport Club and adjoining showground complex. The route for the 100 kilometre qualifying race on June 26 to determine grid positions, will take crews across the A2 highway south to Mokomma before heading back to Jwaneng.
The action on June 27 will see crews complete two loops of 225 kilometres with a compulsory 20 minute stop at the end of the first loop. The route again heads towards Mokomma and then moves further south towards Maokanne and Sese before turning back to Jwaneng.
Crews will complete two loops of 210 kilometres, again with the compulsory 20 minute service halt at the end of the first lap, on the final day. The course heads south towards Lefhoko and Tsonyane, and then turns to the north of Sese on the way back to the finish in Jwaneng.
The qualifying race will start at 11:30 and on both June 27 and June 28 the race will start at 8:30. Public access to race headquarters will be controlled, but there are no restrictions along the route with free entry to spectator areas.
Botswana police and traffic authorities will again mount a massive crowd control exercise with a huge crowd expected along the route over the three days. Police and traffic authorities will also be on duty at designated overnight camping areas.
"Once again we have had superb co-operation from Botswana Tourism Organisation, Debswana Mine, Jwaneng and other local authorities and the police and traffic departments," said Roets. "As usual the race is a major talking point throughout Botswana, and enthusiasts are gearing up for what will be another memorable event."
(Source: http://www.sacrosscountryracing.co.za/webcontent/index.html#/press)