There is no substitute for quality and the field assembled for this year's Toyota Kalahari Botswana 1000 Desert Race, round three of the Donaldson Cross Country Motor Racing Championship from June 24 to 26, is as good as it gets.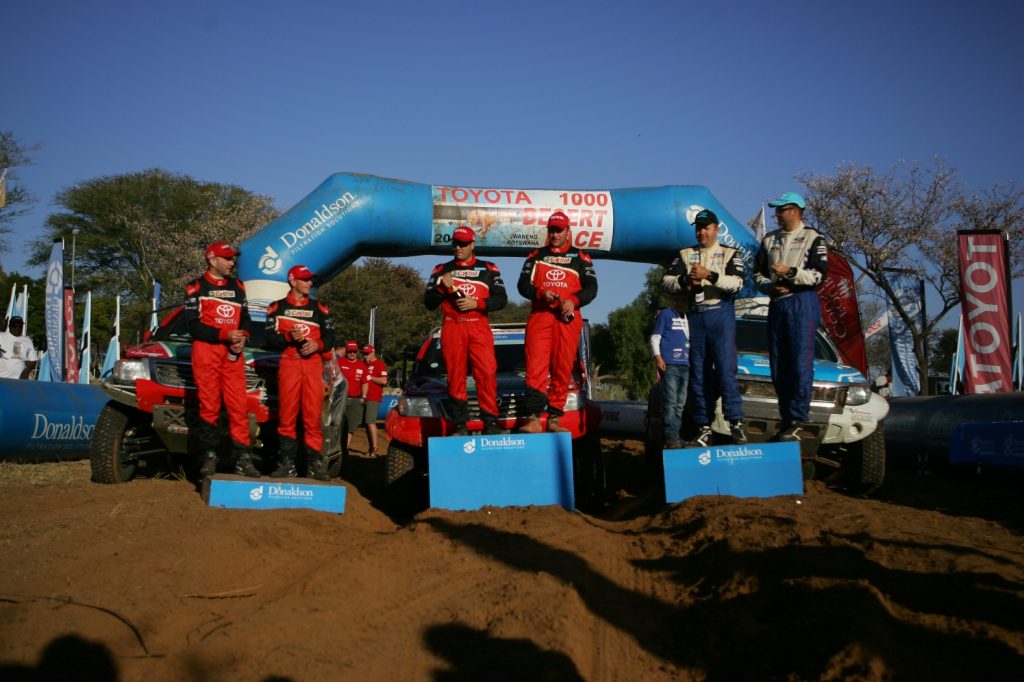 A case can be made out for this year's Production Vehicle entry to be the best yet. Included among the new FIA Class runners are three overseas teams with the international category complemented by the Class T and Class S cars – with the Class T brigade capable of upsets in a marathon event such as this one.
It is a matter of public record that Toyota were last beaten in the iconic race in 2011 when Chris Visser and Japie Badenhorst won a dramatic race for Ford. Since then Duncan Vos/Rob Howie, Anthony Taylor/Dennis Murphy and Leeroy Poulter and Howie have held sway with the race format changed to two heats in 2014 and 2015.
Such is the domination the Poulter/Howie and Taylor/Murphy combinations exercised over the Donaldson series last season and thus far this term, it would be easy to predict more of the same. But a number of factors not the least of which concerns the law of averages, could come into play over the race weekend.
Mechanical gremlins, a wrong call or a slight indiscretion can spell instant disaster and this is a race, remember, that invariably carries a sting in the tail. Taylor and Chris Birkin can attest to that fact when a broken side shaft 17 kilometres from the end of the 2011 race handed a dramatic victory to Visser and Badenhorst.
But Poulter/Howie and Taylor/Murphy take into the race a winning culture that is not easy to beat. And that alone probably installs them as the weekend's favourites.
The Red-Lined Motorsport Nissan Navara in the hands of Terence Marsh and TV personality Derek Watts also joins the fray in the international class. Watts has some motorsport experience and competed in a Toyota Tazz series at the old Kyalami.
Back for a second bite of the Donaldson cherry this season are the Brazilian crews Marcus Baumgart/Kleber Cincea and Christian Baumgart/Beco Andreotti Neto, in a pair of Neil Woolridge Motorsport/Ford Performance Rangers, and former rally star Conrad Rautenbach and Dirk von Zitzewitz, make up an interesting combination in a Toyota Hilux. The Brazilians previous sortie to South Africa for the RFS Endurance will have given them an insight to Kalahari conditions, and Zimbabwe's Rautenbach and von Zitzewitz give Toyota Gazzo Racing SA an experienced extra bow to their fiddle.
One has a sneaky suspicion, however, that the major threat to the FIA Class is going to come from the Class T brigade. The leaders, Chris Visser and Ward Huxtable (NWM/Ford Performance Ranger) and Jason Venter/Vince van Allemann (4×4 Mega World Toyota Hilux) are separated by only two points and the rest of the challengers appear to be up for the fight and offer a nice blend of experience and youth.
There are light years in terms of experience between Visser/Huxtable and Venter/van Allemann but the Toyota Hilux crew have shown a maturity beyond their years this season. Gareth Woolridge/Boyd Dreyer, in the other NWM/Ford Performance Ranger, have also displayed the same qualities and older hands like Johan van Staden/Mike Lawrenson (Red-Lined Motorsport Nissan Navara), Johan/Werner Horn (Malalane Toyota Hilux) and Luke Botha/Andre Vermeulen (Red-Lined Motorsport Nissan Navara) have had their work cut out in dealing with the younger competitors. (Source: http://www.sacrosscountryracing.co.za/)