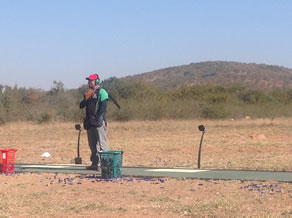 This past weekend, 21st June 2014, saw the Gaborone Rifle and Clay Club bring together all Club members and eager spectators for the Spar Auto ball Competition. Emerging as the victor for the competition, and taking home the gold prize, was Francois Jooste.
The format, or discipline, for this weekend's competition saw a 75-clay target competition. Squads comprised of a team of six 6, with each shooter granted two shots to break the target. Each competitor shot 25 targets within a full round, with a total of 3 rounds to complete the 75 targets. The top six shooters who made it into the semi final included: Francois Jooste, David Cohen, Jose Dias, Frank Jansen, Kabelo Binns, and Jan De Wet.
Four shooters ultimately made it into the final round before the victors were identified as follows:
High Gun Gold                     –           Francois Jooste
High Gun Silver                   –           David Cohen
High Gun Bronze                –           Jose Dias
A Class Gold                         –           Jan De Wet (Jnr)
A Class Silver                       –           Frank Jansen
A Class Bronze                    –           Kabelo Binns
B Class Gold                         –           Stephan Lombard
B Class Silver                       –           Chris Manger
B Class Bronze                    –           Wangu Mphinyane
C Class Gold                        –           Jon Smuts
C Class Silver                       –           Pieter Barnard
C Class Bronze                    –           Guillaume Knipe
"It's been yet another fantastic competition for the Club. We're grateful for all those who came out to support us, especially our sponsors and friends from the media who are helping us to create greater awareness for this growing sport," commented a victorious Mr. Jooste.
The Rifle and Clay Shooting Club has been in existence since before Independence, having built an increasingly strong following over the years. The Club provides a safe and fun environment in which members can handle firearms and practice their skill.
With previous competitions already held thus far during the year, the Club has demonstrated that there already exists a growing interest in shooting within Botswana. Many shooters have participated and won in various competition platforms across the region, and even abroad, with Francois Jooste having competed in the World Cup in the USA.
The primary sponsor for the competition was the Tsetseng Retail Group who holds the Spar Brand.