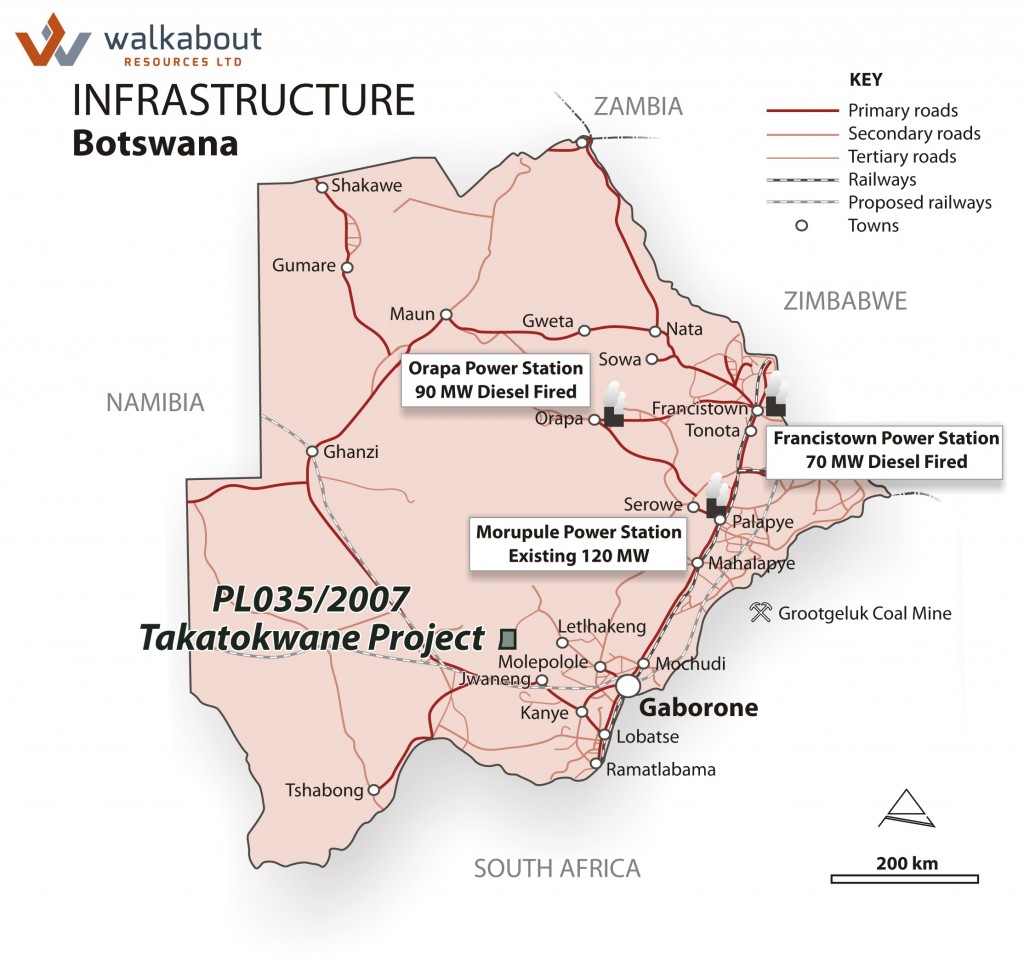 Walkabout Resources Ltd (ASX:WKT) said it believes the planned construction of the Trans-Kalahari Rail (TKR) project between Botswana and Namibia will provide the most efficient pathway to market for its 7bn tonne Takatokwane coal project.
This follows the recent signing of the Bi-Lateral Agreement at Walvis Bay which contractually reaffirms commitment by the Governments of Namibia and Botswana to the construction of the US$10 billion, 1,500km long railway between Mmamabula in Botswana and Walvis Bay in Namibia.
The expected but unpublished route of the rail line is co-incident with the existing Trans Kalahari Highway and Export Corridor and located near the planned mining area of Walkabout's 67% held Takatokwane thermal coal project site.
"The signing of this accord which lays out the management and development process for the Trans Kalahari Rail Line is extremely important to the emerging coal industry in Botswana and to Walkabout Resources in particular," Managing Director of Walkabout, Allan Mulligan said.
"The time-line is aggressive and we are looking forward to synchronising the Takatokwane mine development to deliver the first shipment of coal onto the TKR line."
Development and construction from 2014 to 2019 will include an extended commodity terminal at Walvis Bay port. The coal terminal will be configured to handle some 65 million tonnes of coal per annum. Development of the rail line and port is expected to follow a private public partnership (PPP) model.
Walkabout is currently engaged in a Pre-feasibility study for the Takatokwane thermal coal project. The coal underlying the property is suitable for power station feed and most of the production will be directly exported. The planned rail line will pass close by the Takatokwane mine site and the central location of the project is ideally suited to access the TKR.
The large size of the deposit at Takatokwane and the relatively flat, shallow and wide seam coal will accommodate several mines to be constructed and operated at the same time. Walkabout is considering a multiple mine configuration of several large surface strip mines producing a washed product at coal quality specifications of 6,000 kcal/kg and a direct shipping feedstock at about 4,800 kcal/kg. The mines will produce from multiple production units of 6mtpa each and the Takatokwane project is capable of producing in excess of 20mtpa of thermal coal for export markets.
In addition to an allocation of coal for export, Walkabout is assessing the viability of a suitably sized modular coal to gas process which will produce electricity, syngas and later, through an integrated gasification combined cycle process, selected liquid fuels for domestic consumption.