Discovery Metals says April 2014 was a record month for copper production at the Boseto Mine, with 2,011 tonnes of copper produced. This result is 40% higher than the monthly average for Q3 FY14. Costs at $2.86 were 27% reduced compared to Q3 FY14.
Mining
Mining at the Boseto Mine improved in April 2014 in comparison to the Q3 FY14 results. This improvement was a result of dedication and commitment from the workforce and management to progress the efficiencies in the drilling and haulage areas. Utilisation of drill rigs and haul trucks improved by 15% on average compared to Q3 FY14 and this had a positive impact to total material movement for April 2014.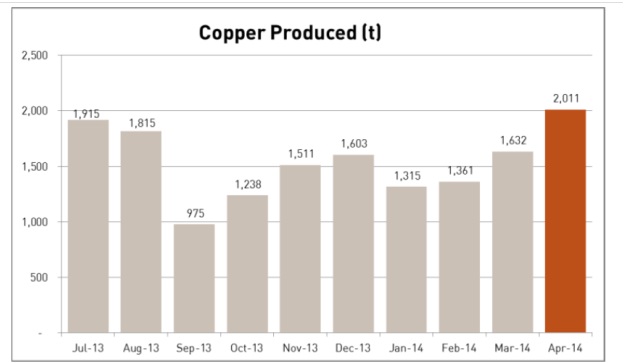 CEO of Discovery Metals, Bob Fulker said it is pleasing to see the hard work and strategies being implemented at the Boseto Mine now reflected in the Company's production results.
"We have worked hard to improve efficiencies in operation, drilling and haulage in order to meet the monthly forecasts," he said.
Concentrator
As part of the Process Plant Optimisation Project, all areas of the process plant – from crushing through to filtration – have been scrutinised in recent months to drive material improvements in recoveries. These initiatives have helped to deliver a record month in recoveries (91.8%) and there have been positive improvements across flotation, chemical additional, mill stabilisation, ball charge minimisation, power consumption and overgrind.
The plant throughput rate has been reduced to allow continuous stable production between planned maintenance shutdowns.
In April 2014: the mill operated for 25 days; ore milled increased by 9.7% when compared to the monthly average for Q3 FY13; and concentrate quality and quantity increased on the back of the recovery, grade and running stability of the processing plant.