China Africa Resources, the AIM listed natural resource exploration and development company say it has signed an Investment Agreement with Global Exploration Technologies (Pty) Ltd, a private Australian company, to acquire a 48.88% shareholding in GET.
GET has five exploration licences in the Kalahari Copper Belt in Botswana held through three Botswana subsidiary companies.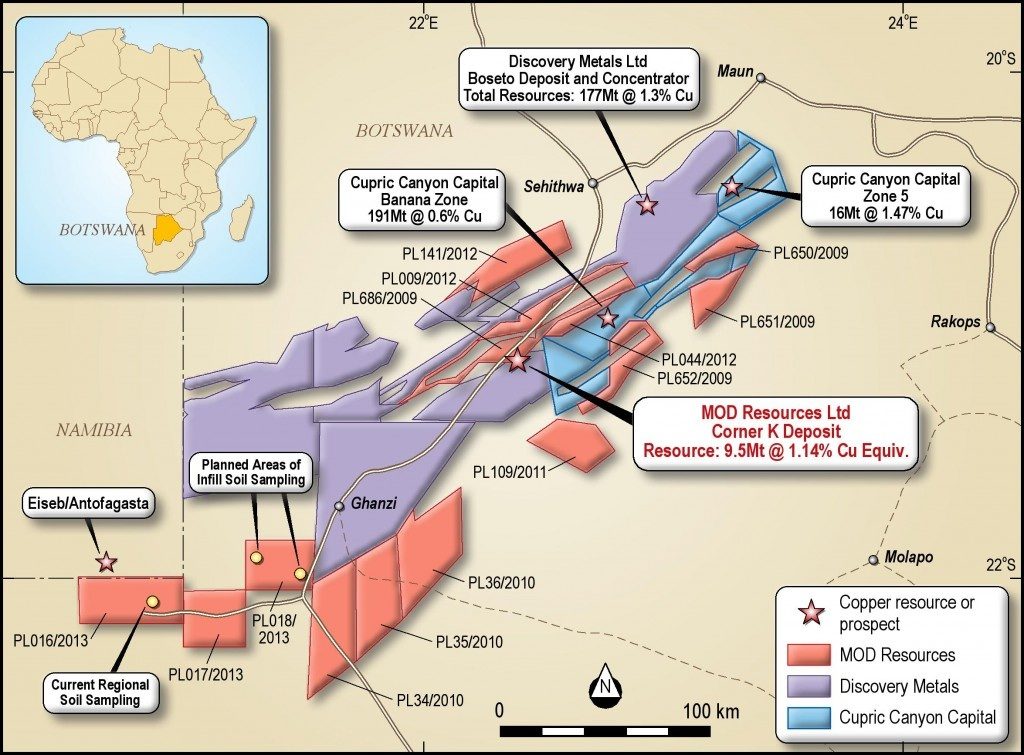 "I am pleased to confirm to the market this investment in GET, a Company with interests in the Kalahari Copper Belt in Botswana. The China Africa team have been highly proactive in the search for new potentially high value opportunities across the energy metals and minerals sector," Paul Johnson, Chief Executive Officer of China Africa Resources plc said.
He said this acquisition represents a first step forward for the Company adding that investors may be aware of the significant copper discovery recently made in the Kalahari Copper Belt by MOD Resources and we are delighted to be investing in the same region in Botswana through GET.
"Clearly exploration projects of this nature carry material exploration risk, but this is countered by the exceptional operating environment that Botswana provides for diligent and professional operating companies.
GET has developed and is implementing a planned exploration programme and through our investment we are supporting that work. The principle objective for GET is to identify further economically viable copper deposits in the region."
CAF to is to acquire a 48.88% holding in GET with consideration to comprise cash and CAF equity as
A$75,000 payable in cash (£44,910) to GET to be applied to clear outstanding shareholder loans to GET;
A$150,000 payable in ordinary shares of 1p each in the Company ("Ordinary Shares") at 3p per share being the mid-market price of CAF stock on the date that the investment agreement was prepared. The sterling equivalent at the date of agreement is £89,888 equating to 2,996,266 CAF shares or 3.8% of CAF issued share capital post transaction.
The investment agreement provides for certain amendments to the Articles of Association of GET to ensure CAF's proportionate holding in GET is protected, notably the application of 75% shareholder approval for any issue of new equity or alteration to the capital structure of GET.
In addition, as part of the investment agreement CAF has committed to solely fund licencing and exploration costs in respect of the five licences for the first 12 months following signature of the investment agreement, including a guarantee to fund at least the minimum expenditure commitments on the licences during this 12 month period (the latter amounting to approximately £100,000 in total for the 12 month period in question). Expenditure budgets must be agreed by CAF prior to incurrence.
Botswanan Interests of GET
The GET Copper Project consists a portfolio of five exploration licences totalling 3,554.7 sq. km of prospective ground on the Kalahari Copper Belt ("KCB") in north-west Botswana. The KCB is a relatively underexplored emerging, sediment hosted stratiform, copper province with total reported Mineral Resources of over 5.5Mt contained copper metal and 170Moz silver within a 140km radius of the GET Project.
Geologically, the KCB is a constituent of a northeast-trending, tectonically inverted Mesoproterozoic and Neoproterozoic rift basin, which extends from central Namibia to northern Botswana. The KCB rock units extend over 1,000km in strike and are known to host at least 19 copper deposits across Namibia and Botswana. An extensive covering of Kalahari sands over much of the KCB has meant that there has been limited historical exploration over the belt. Airborne geophysical surveys combined with soil geochemical surveying, ground based geophysics and drilling are typically required to investigate the copper potential below the sand cover.
Through this investment the GET Project will become the third active player on the Botswanan KCM. Cupric Canyon Capital have completed a Feasibility Study and are currently looking to develop their Zone 5 Deposit (100.3Mt@1.95%Cu & 20g/t Ag). Whilst, in December 2016, MOD Resources Limited announced the results of a Scoping Study on their T3 Deposit for which a maiden Mineral Resource Estimate (28.36Mt @ 1.24%Cu and 15.7g/t Ag) was released in September 2016. The T3 Deposit was only discovered in March 2016.
The GET Project is made up of two groups of licences; Ghanzi West Group consisting three contiguous licences covering 2,724.2 sq. km at the western end of the KCB; and the Senyetse Group consisting two adjacent licences totalling 830.5 sq. km, located on the central KCB, 28km south of the MOD Resources T3 Deposit.
The Ghanzi West Group currently contains two soil anomalies, identified by soil geochemical sampling, each approximately 10km in strike length. Interpretation of geophysics data indicates over 200km of favourable geological contact within these licences. The previous licence holders drilled four shallow reverse circulation ("RC") drill holes on a small section of Soil Anomaly 1. Two of the four holes intersected zones of pyrite (<150m) but no further work was undertaken at the time and most of the soil anomalies remain untested. Elsewhere on the KBC pyrite occurrences have been shown to be associated with lateral and vertical copper mineral zonation.
The Senyetse Group licences also contain surface copper anomalies identified by previous soil sampling work. Independent structural analysis of geophysics data has shown that the copper anomalies are coincident with an interpreted fold axis and a cross cutting structure. As at Ghanzi West these licences also contain many tens of kilometres of favourable geological contact.
GET's initial Project work programme will consist historical exploration data gathering and analysis followed by geological mapping and confirmatory and infill soil sampling programmes over the historically explored ground in both project areas. GET will also conduct a detailed review of geophysical data, including Induced Polarisation (IP) survey and geomagnetic data, to refine exploration targets and identify hitherto untested targets across the licences. Follow-up drilling will seek to test for copper zonation at Anomaly 1, whilst shallow drilling programmes will be planned for the other copper soil anomalies and promising structural targets.