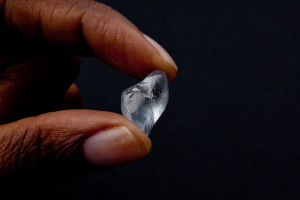 Lucara Diamond Corp says it has recovered two additional rare blue diamonds from its Karowe Mine in Botswana.The larger of the two diamonds recovered has a weight of 4.77 carats with the smaller diamond weighing 0.2 carats. Options for the sale of the stones are currently being investigated. Lucara recently sold a 9.46 carat blue diamond recovered from the Karowe Mine for $4.515 million.
William Lamb, CEO of Lucara notes the recovery of the 4.77 carat blue diamond brings the total number of blue diamonds recovered in the past few months to four.
"The re-occurring recovery of these exceptionally rare and sought-after stones is highly significant and confirms the quality of the diamonds produced from the Karowe Mine," explains Lamb.
Lucara is a well positioned new diamond producer. The Company has an experienced board and management team with extensive diamond development and operations expertise.
The Company's two key assets are the Karowe Mine in Botswana and the Mothae Project in Lesotho. The 100% owned Karowe Mine is in production. The 75% owned Mothae Project has completed its trial mining program.