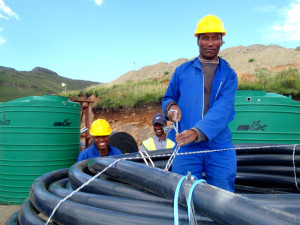 Paragon Diamonds has revealed it has entered into a memorandum of understanding (MoU) with an unnamed private Botswana company.
In an update, Paragon says the company is the registered holder of a number prospecting licences (PL's) across diamond-prospective terrains in Botswana, covering 1,686km² over several known kimberlites including one in the Orapa Kimberlite Field.
The licences were issued in July 2011, are valid until June 2014 and can be extended for a further four years subject to certain conditions.
"The MoU stipulates a six month period during which Paragon may review  data on the licences, undertake appropriate due diligence and negotiate earning an equity interest in the licences in return for funding exploration costs, on terms to be finalised," reveals Paragon Diamonds.
Paragon MD Stephen Grimmer says the agreement allows the company to quickly accelerate its exploration presence in Botswana, by participating in some prime exploration opportunities.
"Notwithstanding, the company is also seeking to increase its presence in Botswana, through direct applications for PL's."
"The Paragon Diamonds is looking to rapidly develop producing and exploration diamond properties into a portfolio of high value assets located within Africa. To date it has secured a series assets which its exploration and development teams are working to progress. The core focus at present are the companies hard rock licences located in Lesotho, a major producing diamond region."
The Projects include the Lemphane Kimberlite project Lesotho (85%), which is one of five known diamond bearing kimberlite pipes within Lesotho, located 5km from the Liqhobong project.
So far, the Environmental assessment plan and access routes and exploration camp have been completed at the project with DMS plant constructed and bulk sampling commenced with 35,000 tonnes of ore stockpiled awaiting processing. Extended bulk sampling of a further 25 – 40,000 tonnes is possible once initial sample completed.
The other project is the Motete Dyke exploration, Lesotho (85%), which is a substantial kimberlite dyke (fissure system) in close proximity to the Lemphane project. Known to be diamondiferous and currently undergoing initial exploration. Initial micro diamond analysis results in 2012 indicated that an in-situ grade of up to 1 carat per tonne is likely. The licence was awarded in December 2011.
Kaplamp diamond hosting Lamproite', Zambia on the other hand is a large prospecting licence known to host 14 Lamproite pipes within a known diamondiferous region and with five high profile targets identified for initial evaluation. The area is highly prospective as De Beers recovered significant amount of stones in 60's and 70's but relinquished area as Lamproites were not yet recognised as viable. The Argyle Diamond Mine in Western Australia is the most renowned Lamproite hosted mine – in 1994 produced 39% of worlds diamond production.
Kopje kimberlite exploration, Botswana is a newly awarded prospecting licence covering 15 km sq in highly prospective area 35 km east of DeBeers' large producing Orapa Mine.
Mabuki, Tanzania is located 81km south of Mwanza, Tanzania with good infrastructure nearby (roads, power, water, transport) the licence sits within a known Kimberlite Field.  Artisanal activity occurs to the west of licence with diamond bearing gravels identified off the edge of the licence. The intention is to explore (detailed geophysics and sampling) and map-out, then establish drill targets and define a resource. Wardell Armstrong completed a competent persons report on Tanzania in September 2010.