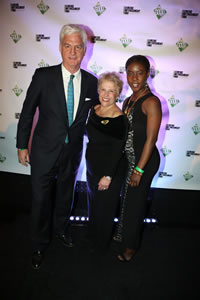 At recent GOOD Awards, Forevermark, the luxury diamond brand from the De Beers group of companies, announced a multi-year partnership with the Diamond Empowerment Fund (D.E.F), joining D.E.F's Empowerment Circle at the Infinity level. "With an aligned mission of bringing sustainable benefits to the people and communities in diamond producing nations in Africa, our partnership with D.E.F. will help us further deliver on our commitment to responsible sourcing," said Stephen Lussier, CEO of Forevermark.
It was also announced that Forevermark and the Diamond Empowerment Fund will launch the Forevermark Promise Scholars Program in 2014. Students from D.E.F's three beneficiaries, African Leadership Academy, Botswana Top Achievers Program and CIDA City Campus, will be supported through their academic journey through the Forevermark Promise Scholars Program. "This partnership is an effective way for Forevermark and D.E.F. to provide scholarships to young emerging leaders exemplifying the good that diamonds can do," says D.E.F. President Phyllis Bergman.
Forevermark was one of the honorees at last night's GOOD Awards in New York City for global leadership and making a positive difference for communities around the world. Forevermark diamonds are carefully selected and come from sources committed to the highest business, social and environmental standards. This ensures that Forevermark diamonds are a force for good, benefiting the people, communities and countries from which they originate. Only once a diamond has met these rigorous standards of integrity, in addition to strict quality criteria, can it be inscribed as a Forevermark diamond with an individual number and brand icon.
The Empowerment Circle was established in 2013 to help D.E.F. fulfill its mission to develop the next generation of leaders in diamond producing nations. The three levels of Empowerment Circle Partnerships are; Infinity – a multi-year major contribution that includes Forevermark; Perennial – an annual major contribution that includes the Dalumi Group and Malca-Amit Secure Logistics; and Meridian, an annual supporter contribution that includes Tiffany & Co., Exelco Diamonds (Tolkowsky Diamonds), Leo Schachter Diamonds (the Leo Diamond), Brilliant Earth and Sarine Technologies. For more information, please visit www.diamondempowerment.org