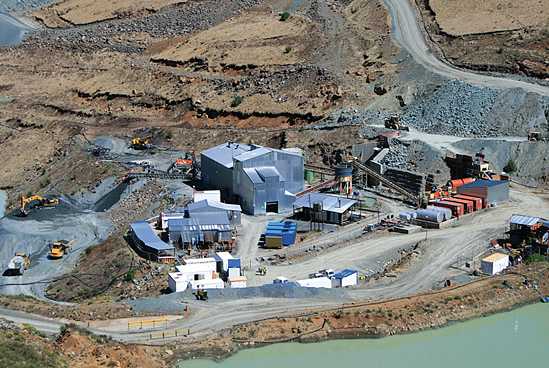 Firestone Diamonds plc says Liqhobong Diamond Mine in Lesotho is on track for initial production in Q4 2016 with construction now 49% complete as at end of September 2015. This is versus 50% target under the revised timetable, announced in June 2015.
According to the company, capital budget to commencement of production of R2.1 billion, including optimisation projects and reclassification of expenditure from operating expenses to capital, remains within the original US$185.4 million budget.
Firestone Chief Executive Officer, Stuart Brown said the progress reflects the ability and hard work of the team and contractors during the past 15 months and gives 'us confidence that we will achieve our vision of becoming a mid-tier diamond producer.'
"I am pleased to report that construction activities at our Liqhobong Diamond Mine in Lesotho are 49% complete and we are on track to achieve initial production in Q4 2016," Brown said.
 "The new Mine Plan and project economics announced today has been a culmination of over a year's work and importantly, further de-risks and enhances the Project's economics following on from the 2013 Definitive Feasibility Study".
 He added: "I look forward to delivering further updates on Liqhobong's progress."
The company added that there is zero lost time injury record maintained, with over 1.3 million man hours worked to date and up to date, grid power project complete for Liqhobong significantly ahead of schedule and within budget.
The Diamond Resource and Diamond Reserve updated based on new geological model, increased bottom cut-off ("BCO") and exclusion of boart carats while base case life of mine US$ per carat ("US$/ct") increased by 13% from an escalated average of US$146/ct to US$165/ct, said Firestone.
The Liqhobong Diamond Mine in Lesotho is Firestone's principal asset, and was acquired as a result of the acquisition of Kopane Diamond Developments plc in September 2010. Liqhobong is located at the head of the Liqhobong Valley in the Maluti Mountains of northern Lesotho and is operated by Liqhobong Mining Development Company (Proprietary) Limited ('LMDC'), which is 75% owned by Firestone Diamonds and 25% owned by the Government of Lesotho.