South Africa's power utility, Eskom said it has continued to further stabilise the business with improved operational and financial performance, with almost 15 months of no load shedding. When presenting its results for six months ended 30 September 2016, the company noted that the improved performance of the power generating units coupled with additional capacity from some of our new build projects has resulted in a stable power system, with excess capacity being exported to neighbouring states.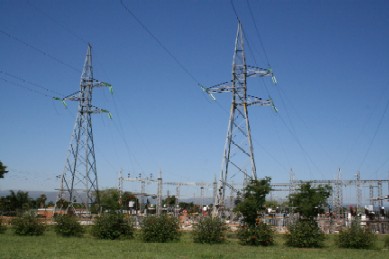 Releasing Eskom's interim financial results today, Group Chief Executive Brian Molefe said: "Eskom is now delivering excess electricity capacity to help stimulate South Africa's economic growth. Our 5-year plan to the 2020/21 financial year aims to re-establish Eskom as a catalyst for economic growth, and not a constraint to the country's future growth."
Revenue for the period under review rose 10.5% to R97.1 billion due to a 31.6% increase in electricity exports to Botswana, Namibia, Zambia and Zimbabwe.
"With the anticipation of additional surplus capacity in the coming months and years, Eskom is focusing on signing long-term power supply agreements with regional partners. Engagements with utilities and mining houses active in the region have commenced," Molefe said. Overall electricity sales were 1.2% higher than the in the same period last year.
A strategy to address the decline in local sales volumes has commenced, and will address both the retention of sales to existing customers and the stimulation of sales growth. The strategy addresses cross-border sales, local demand stimulation, public-private partnerships, corporate development and unregulated revenues.
EBITDA (earnings before interest, tax, depreciation and amortisation) surged 23% to R31.5 billion.
Eskom's Chief Financial Officer Anoj Singh said the company cost containment strategy is bearing fruit. For the period under review, primary energy costs decreased by 1.5% to R40.4 billion (September 2015: R41 billion) compared to an average increase of 18.8% over the last five financial years, reversing a significantly negative trend.
 "As a result of the increased plant availability and the additional generating capacity that has been added in the period under review, our reliance on open-cycle gas turbines has reduced considerably. Diesel usage decreased from R6.7 billion in the six months to September 2015 to R288 million in the current period," said Singh.
The higher level of planned maintenance in the previous year is starting to bear fruit, resulting in a significant improvement in plant availability. Plant availability improved from 71.23% to 78.50% for the six months to September 2016, exceeding the year-end target of 72%. Unplanned breakdowns have also improved from 14.75% in the same period to 9.72%. Unplanned outages due to tube leaks have decreased by 32.8%.
Eskom's own generation costs of R26 billion (September 2015: R28.2 billion) produced 110 170GWh (September 2015: 109 245GWh) compared to 4 948GWh generated by independent power producers at a cost of R8.7 billion (September 2015: R6.5 billion). 
The group's liquidity position has improved significantly, with liquid assets increasing by 81.6% from R24.1 billion a year ago, to R43.8 billion at 30 September 2016. The group has access to adequate resources and facilities to continue as a going concern for the foreseeable future.
Municipal arrear debt increased from R6.5 billion to R9.2 billion. Eskom is considering the prepaid billing as a way of dealing with the growth in municipal electricity debt.
From April to date, Eskom has already installed 10 195 smart meters in Soweto, Midrand and Sandton. We aim to install 18 000 prepaid meters in these areas by the end of March 2017.
"Eskom has secured funding of R65 billion for financial years 2016/17 and 2017/2018. For the current financial year, 77% of the R69 billion funding requirement has been secured. This includes three loan facilities with the African Development Bank amounting to R20 billion, as well as a R7 billion short-term credit facility with the China Development Bank. The remaining 23% required for the year, which constitutes R16 billion, will be raised through domestic medium-term notes, commercial paper, development financing and export credit agreements," said Singh.
The new build programme is progressing well, with Ingula's Units 4, 2, and 1 having been in commercial operation since 10 June, 22 August and 30 August respectively. The remaining unit at Ingula (Unit 3) has already been synchronised to the grid, and is undergoing repairs after experiencing problems during the test phase. The unit is on track for commercial operation by 2017.
Unit 6 of Medupi Power Station has been in commercial operation since August 2015. Unit 5 was synchronised to the national grid on 8 September 2016. The synchronisation of Unit 5 marks a key milestone towards the full commercial operation of the unit ahead of its scheduled commercial operation in March 2018. Good progress is also being made on Unit 4 of Medupi.
The Kusile Power Station project is making significant strides. Unit 1 continues to achieve set milestones, on the path to commercial operation by the second half of 2018. Key milestones achieved include the completion of the chemical clean in August 2016 and first fire using oil in September 2016. The Kusile project has mechanically completed and commissioned the first wet flue gas desulphurisation, thereby being the first to install the technology, not only in South Africa, but the continent of Africa. Unit 2 is progressing well. The project completed hydro-testing of the Unit 2 boiler on 1 October 2016, which will positively influence the achievement of boiler registration.
"Eskom is gearing itself up for even better results overt the rest of the year, during which period our focus will be placed on building the required infrastructure, while also continuing to electrify households across the country. Eskom is aiming to achieve 200 204 connections by year end, against the target of 169 722 that has been set for us by the Department of Energy," Molefe said.