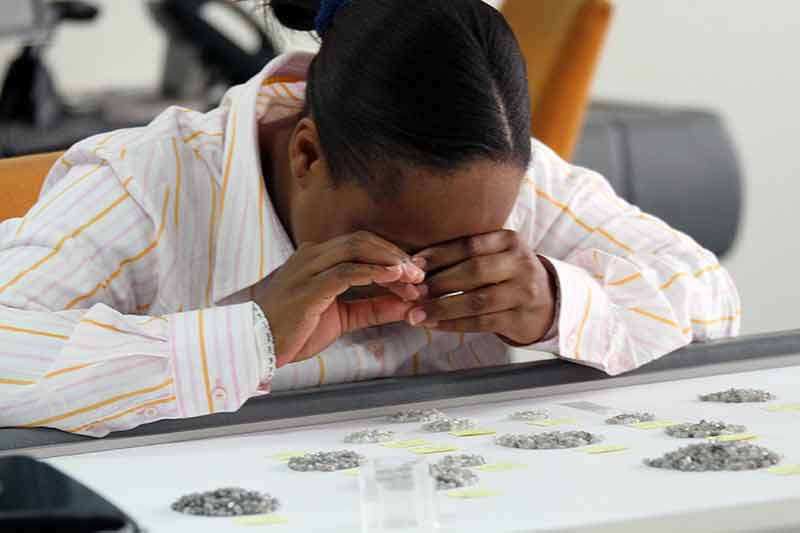 De Beers celebrated another milestone in its 125 year history with the start of rough diamond sales to international Sightholders in Gaborone, Botswana today. The relocation of Sights to southern Africa underpins the long-term future of the partnership between De Beers and Botswana, and is another significant step in the country's transformation into one of the world's leading diamond centres.
Around 200 representatives of the world's leading diamantaires are due to attend the Sight at the De Beers offices in Gaborone this week. A new US$35 million state-of-the-art facility has been created to welcome the Sightholders. Batswana are at the heart of the operation, making up approximately 50 percent of the 160 people employed in the Global Sightholder Sales division.
The move is expected to serve as a catalyst for economic growth across southern Africa with the region now the world's primary source of rough diamonds sales, creating further employment opportunities in ancillary services such as banking, security, IT and supply chain. De Beers has sourced furniture, equipment, and other products and services from local companies, providing immediate economic benefit to domestic suppliers.
"Africa was home to the diamond industry when it began in the late 19th century and De Beers and its partners were central to that growth. As we make this move, Africa is once again at the forefront as De Beers and its partners lead the diamond industry into a sparkling new chapter in its illustrious history," Philippe Mellier, CEO of De Beers Group said when welcoming the Sightholders in Gaborone,
"The relocation of our Sightholder Sales activity to Botswana, and the opening of this new Sight facility today, are a further demonstration of our clear commitment to beneficiation and to our partner's aspirations to transform Botswana into one of the world's leading diamond centres."
The building hosting the Sight in Gaborone, Botswana is the world's most sophisticated diamond sorting, valuing and sales facility and provides an excellent environment for De Beers' global client base. The project to relocate international Sights from London to Gaborone was carried out over two years and completed ahead of schedule and below budget. It has been a considerable logistical feat for De Beers, involving the migration of people, technology and systems.
The Sight runs from Monday 11 to Thursday 14 November 2013.