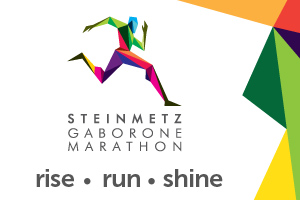 The countdown to the fourth annual Diacore Gaborone Marathon (DGM) is on, with the registration deadline having been extended to accommodate more entries. For the second year running, Stanbic Bank Botswana, Corporate and Investment Banking, serves as the Diamond Sponsor of the fourth annual Marathon.
This year's marathon event is set to take place on 30th March 2014 at The Grand Palm Resort. Participants can choose from four race options to cater for seasoned runners, sports enthusiasts, friends and families alike. Race options include: a marathon – 42.2km; half-marathon – 21km; 10km, and fun run/walk – 4km.
The Diacore Gaborone Marathon, previously Steinmetz Gaborone Marathon, following a name change of the Title Sponsor, is an international qualifier for major races and Botswana's largest running-for-charity event. Proceeds from the registration fees are awarded to official charities selected by DGM, with P430,000.00 having been donated to different charities in 2013.
Participants are encouraged to register at Stanbic Bank Botswana branches across the country or online at www.steinmetzgaboronemarathon.com. Registration closes on March 9th 2014.