As part of the on going Adopt-A-School initiative to which Botswana Insurance Holdings Limited (BIHL) Group has pledged its unwavering dedication, the Group have, through the BIHL Trust, officially handed a library at Kuke Primary school.
Kuke Primary School is the 6th school to be adopted by the BIHL Trust, with over P 600 000 spent so far, the new library was officially handed over in the presence of Honourable Minister Johnny Swartz, Minister of Infrastructure, Science and Technology and Kgosi Nxhogae of Kuke Village. Also present was the Director of Regional Operations (Ghanzi) Mr. G. Mohube, a representative from Education Hub, Mr. Loeto, Head Teacher of Kuke Primary School, Mr Dinko; members of the BIHL Trust, representatives from the Kuke community.
Opening the library at Kuke Primary School, guest of honour, Honourable Minister Swartz, noted that pupils in that area are known to run away to live in farms to live a rural life. He urged the students to stay in school and encouraged their parents to liaise with teachers when they are back home.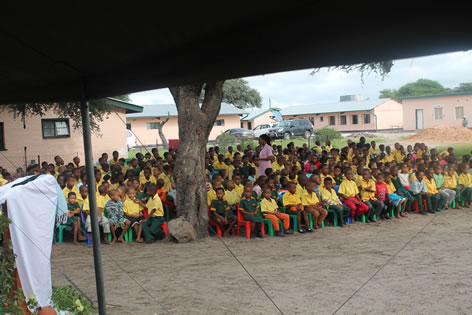 Kuke Primary school is situated 110km's north of Ghanzi. The school reserved a room which was last year remodelled, repainted, equipped with shelves, books, furniture, and bean bags to make the place a comfortable reading experience for all pupils.
Speaking at the official handover, Mr. Loeto, Education Hub representative, emphasised the importance of teamwork between parents and teachers in order to curb the dwindling number of pupils attending the school.
Mr. Dinko explained that the school will benefit from library as the pass rate has been a big concern spiralling from 27% in 2011, to 35.8% in 2012 only to come down to 24% in 2013. He raised concerns about pupils' lack of interest in school as well as that of boarding pupils' preference to stay at home with their parents and their parents condoning such behaviour.
"Our dedication towards the Adopt A School continues to grow year on year, with every school proving increasingly closer to our hearts. This is more than simply a CSI gesture, but a project we are incredibly passionate about, and it is our hope that the new library will be a haven and a paradise for the children of Kuke as we strive to drive stronger literacy, passion for education, and indeed improved academic performance as has been evident in previous schools engaged," said Tebogo Keepetsoe, Public Relations and Communications Manager at BIHL Group and Administrator of the BIHL Trust.