Barrick Gold Corporation says it has entered into a strategic cooperation agreement with Shandong Gold Group Co., Ltd., the leading underground mining company in China, based in Jinan, Shandong province.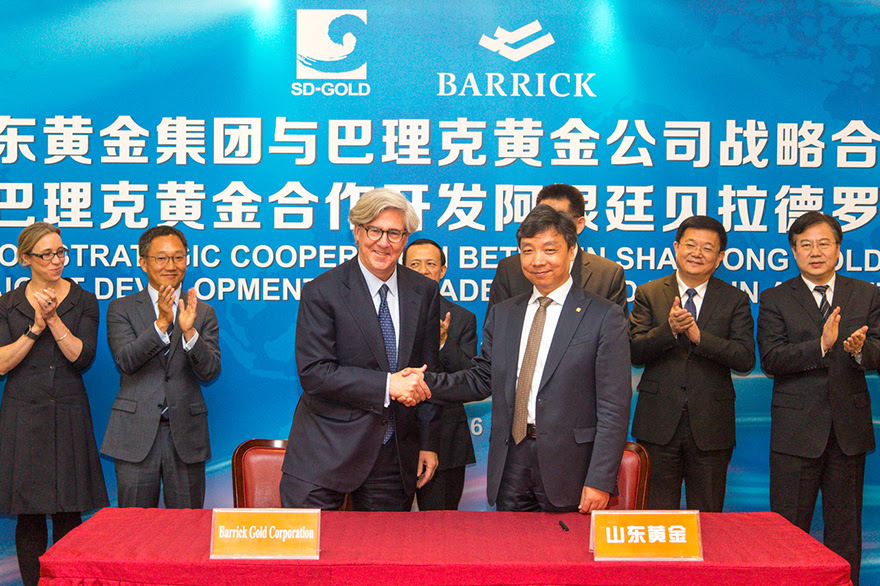 As a first step in the new partnership, Shandong Gold Mining Co., Ltd, the listed company of Shandong Gold Group, will acquire 50 percent of Barrick's Veladero mine in San Juan province, Argentina, for $960 million. As a second step, Barrick and Shandong will form a working group to explore the joint development of the Pascua-Lama deposit. As a third step, both companies will evaluate additional investment opportunities on the highly prospective El Indio Gold Belt on the border of Argentina and Chile, which hosts a cluster of world-class gold mines and projects including Veladero, Pascua-Lama, and Alturas.
"Our ambition is to make Barrick a leading twenty-first-century company in any industry in any jurisdiction, and by definition, that means creating a distinctive, enduring, and trust-based relationship with China and China's best companies. This agreement moves us down that path. Shandong is an ideal partner to help us unlock the untapped mineral wealth of the El Indio Belt over the long-term, while working with us to generate more value from the Veladero mine today," said Barrick Executive Chairman John L. Thornton. "We look forward to working in partnership with Shandong, sharing mining and development expertise, talent, and capital in ways that will create added value for our respective owners, and our government and community partners in San Juan province."
"Our goal is to build a long-term relationship with Barrick, and this agreement encapsulates exactly what we wanted to achieve," said Shandong Chairman Chen Yumin. "In this global economy, it is more important than ever to find international partners with a common vision for developing mines and generating prosperity in an environmentally and socially responsible manner. We are excited to enter Argentina's dynamic mining industry in partnership with Barrick at Veladero, while exploring other opportunities in one of the most prospective mineral districts in the world."
Upon completion of the transaction, the Veladero mine will be overseen by a Joint Venture Board consisting of three nominees appointed by each company. In order to ensure continuity of operations, both companies intend to maintain the mine's current management team following closing of the transaction.
Proceeds from the transaction will be used to reduce debt and for investments in our business to grow free cash flow per share.
The transaction is expected to close at the end of the second quarter of 2017, and is subject to regulatory and other approvals, including Shandong Gold Mining Co., Ltd shareholder approval, and other customary closing conditions.
Shandong Gold Group Co. Ltd., the direct and indirect holder of 56 percent of the outstanding shares in Shandong Gold, has irrevocably agreed to vote in favor of the proposed transaction.
The transaction has received approvals from China's National Development and Reform Commission (NDRC), and the State-owned Assets Supervision and Administration Commission (SASAC) of Shandong Province. Applications for approval by other Chinese regulatory authorities, including MOFCOM (Ministry of Commerce) and SAFE (State Administration of Foreign Exchange), are underway. Shandong has financing commitments in place for the full value of the transaction.
The Strategic Cooperation Agreement with Shandong is consistent with Barrick's strategy to develop partnerships of depth with the potential to create long-term value for the Company's owners, as well as our community and government partners.
Barrick and Shandong began to develop such a partnership in April of 2016 with a meeting between the two companies' chairmen. In the year since, we have engaged extensively to understand each other's respective values, strategic priorities, and operating capabilities. Senior management and cross-functional teams have participated in multiple joint site visits to Barrick and Shandong operations in Argentina, Canada, and China. Given both companies' commitment to innovation in mining, we have established a channel to share ideas on using technology and digitization to achieve step changes in efficiency, safety, and environmental stewardship. Barrick's team is led by Chief Innovation Officer Michelle Ash. Shandong's team is led by Deputy General Manager for Technology Cui Lun.
Under the Agreement, Barrick and Shandong will leverage their respective strengths to optimize and enhance the value of the Veladero mine, in line with step one of the partnership. As step two, Shandong will work with Barrick to explore the potential of investing in and jointly developing the Pascua-Lama deposit. To advance this, Shandong will embed a team of underground mining engineers and project development specialists with Barrick's Pascua-Lama project team.
As step three, the companies have also agreed to work together to explore additional investment and development opportunities on the El Indio Belt, including the Alturas project, in addition to other global opportunities.
Complementing Barrick's operating experience and expertise in the region, Shandong will provide access to substantial internal engineering, construction, and mining expertise, with a particular focus on underground mining, as well as access to capital and equipment.
CIBC World Markets Inc. is acting as financial advisor to Barrick. Davies Ward Phillips & Vineberg LLP is acting