Lucara Diamond has announced the results of a positive underground Feasibility Study (FS) to expand its 100% owned Karowe diamond mine, one of the world's most prolific producers of large, high value type IIA diamonds and the only diamond mine in recorded history to have produced two +1000 carat diamonds.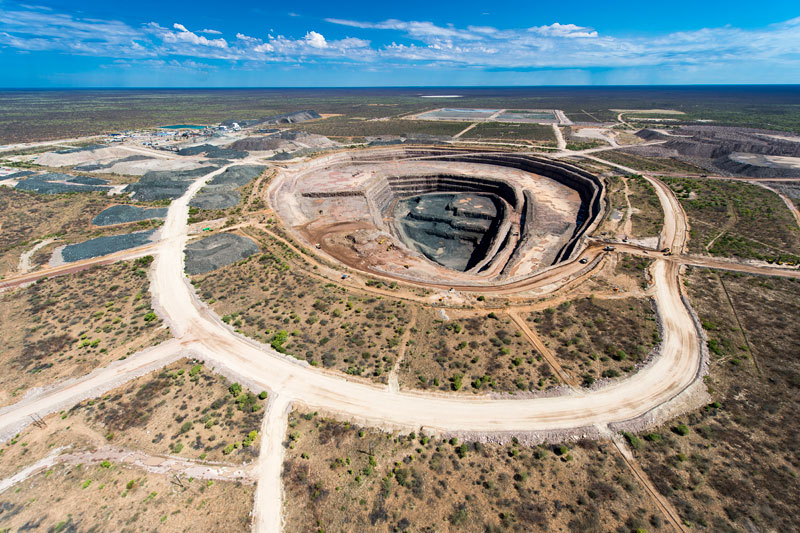 The underground expansion at Karowe is expected to double the mine life, and generate significant revenue and cashflow out to 2040, extending benefits to the Company, its employees, shareholders, communities surrounding the mine, and Botswana.  
Lucara president and CEO, Eira Thomas said the company is highly encouraged by the results of the Karowe Underground feasibility study which has outlined a much larger economic opportunity than first envisaged in the 2017 PEA and represents an exciting, world class growth project for our Company. 
"Diamond deposits are rare and getting rarer. In this context, we are extending a mine that is in a class of its own, having produced 15 diamonds in excess of 300 carats, including 2 greater than 1000 carats in just seven years of production. Further, we have sold ten diamonds for in excess of $10 million each, including the record-setting 813 carat Constellation which sold for $63.1 million," Thomas said.
Key Findings of the Study:
After tax NPV of $718 million for the combined open pit and underground with no real diamond price escalation Updated Resource confirms increasing value with depth.  The combined open pit and underground Indicated resource now stands at 54.27 million tonnes at 15.3 carats per hundred tonnes ("cpht") for a contained diamond resource of 8.3 million carats excluding stockpiles.
Long hole shrinkage ("LHS") underground bulk mining method selected will provide early access to higher value ore and allows for a short pay back period of 2.8 years and low operating costs of $28.43 per tonne processed.
On the basis of a construction start in mid-2020, ore from underground mining will seamlessly integrate into current operations providing mill feed starting in 2023 with a ramp up to 2.7Mtpa to the processing plant by 2026, and the opportunity to increase throughput.  Current production rates will be maintained through the underground ramp up period.
The Underground is designed to access the South lobe kimberlite resource below the current planned bottom of the open pit (which is expected to be at approximately 700 meters above sea level ("masl")), to a depth of 310 masl.  Access to the South Lobe underground will be via two vertical shafts (production and ventilation) of approximately 765 and 715 meters deep respectively. 
Identified key focus areas of hydrogeology, geotechnical constraints of the kimberlite and host rocks have been addressed through an intensive set of work programs and data collection that commenced during the Preliminary Economic Assessment completed in November 2017 and were substantially updated and augmented by the FS study.
"Lucara is weathering the current downturn in the diamond market better than most of our peers.  Karowe's high value deposit and unique production profile has allowed us to generate enough cash to operate our business, develop the Clara sales platform and to have been a steady dividend paye," Zara Boldt, Chief Financial Officer said.
"Based on the strong economics outlined in the feasibility study, we are confident that our external financing requirement will be modest and that attractive financing options are available to supplement the expected contribution of our cash flow from operations to fund the underground project.  We are optimistic about diamond prices recovering in the short to medium term as global supply decreases next year and we have also identified a number of optimisation opportunities for the underground that could add additional value to the project in the near term."
According to Lucara, Karowe Mine has produced 2.5 million carats since 2012 and generated $1.5 billion in revenue. The FS looks to double the mine life from the original mine design of 2010 and add net cash flow of $1.22 billion and gross revenue of $5.25 billion.