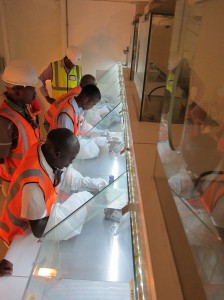 Lucara Diamond Corp has subsequent to its annual budget Board meeting provides operating performance guidance for 2013. William Lamb, President and Chief Executive Officer says the current year has been successful and rewarding year for Lucara as the company transitioned from a developing company into a production company completing construction of our Karowe mine on schedule and on budget.
"With a dedicated and focused operations team the mine achieved nameplate tonnage within 4 months of completing commissioning while maintaining an exemplary safety and environmental record," he says.
"By the end of the first year of production Lucara will have sold over 230,000 carats of diamond, including a rare 9.46 carat blue diamond which achieved a record price of over $477,000 per carat".
Lamb says the company is focused on continuing to build on the operational performance achieved in 2012 with sales expected to increase by almost 75% in 2013 and operating costs targets in-line with the Company's feasibility study."
In the performance update, the company says Karowe Mine is projected to process 2.5 million tonnes and the company is forecasting diamond sales of 400,000 carats in 2013, an increase of almost 75% compared to 2012. Eight sales are planned for the year with viewings in both Gaborone and Antwerp.
It also expects the Karowe operating cash costs to be in the order of $23 per tonne treated, in-line with feasibility projections. At the same time, waste will be stripped to access ore in the Centre and South Lobes. Later in the year waste stripping will also provide access to deeper ore benches in the North Lobe.
"Capital expenditures for 2013 are expected to be approximately $3m and reflect ongoing sustaining operational capital." Lucara is a well positioned new diamond producer and its two key assets are the Karowe Mine in Botswana and the Mothae Project in Lesotho. The 100% owned Karowe Mine is in production. The 75% owned Mothae Project has completed its trial mining program.