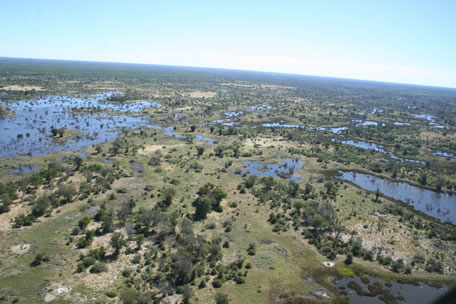 The Kalahari Conservation Society is positive about Botswana's bid for the listing of the Okavango Delta as a World Heritage site. KCS has joined key stakeholders from across Botswana's Government, private and civil society sectors to prepare for an assessment of the Okavango Delta for World Heritage listing next year.
KCS Chief Executive Officer Felix Monggae outlined the significance of the Okavango Delta following a National World Heritage Committee Meeting on Okavango Nomination meeting in Gaborone recently. Monggae said The Okavango Delta is one of the world's most pristine riparian systems and its significance extends beyond just Botswana.
"This is our country's chance to show the world how important conserving our river system is, and to bring international recognition to our natural resources," he said.
"We want to use World Heritage listing to protect our wildlife, our communities and our pride in the Okavango Delta region," Monggae added.
Ministry's Monuments and National Museum Chief Curator Nonofo Mosesane pointed to the "enormous prestige and pride" World Heritage listing gives sites internationally.
"It helps to promote a site internationally and attract new visitors, and it encourages the highest quality standards for welcoming visitors and managing the site. World Heritage status also makes it easier to negotiate additional funding, protection or expertise," Mosesane said.
"And it encourages sustainable development that contributes to improved livelihoods of communities living within the vicinity of the site".
According to the Department of Museums and National Monuments, the Okavango Delta covers over 16,000 square kilometers and supports over 120,000 people by providing freshwater, food, building materials, medicinal plants as well as employment through a viable tourist industry.It is one of only 20% of the world's river systems that is still technically "wild"– meaning that to date there are no dams or human structures that impede its natural functioning.
Tsodilo Hills is the only site in Botswana that currently has World Heritage listing status.