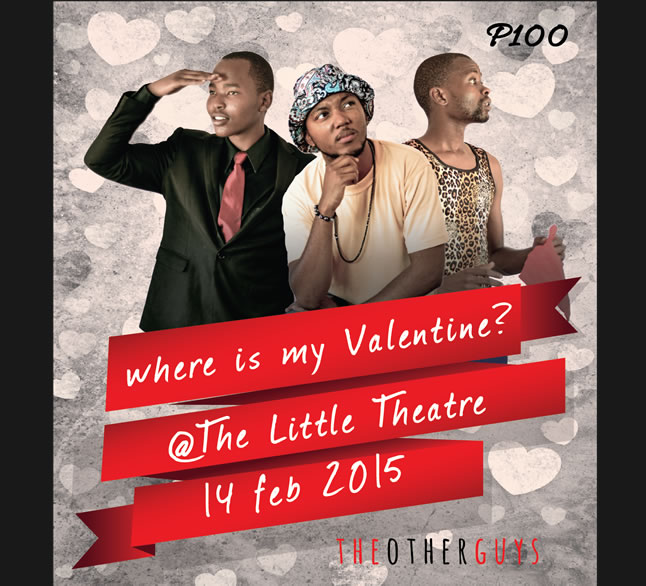 The arts scene in Botswana has been on the up and up for the last few years now, and Comedy is no exception. This Valentine's day, comedians Umbambi Bambino Ndiwenyu, Tulani Tau and Charles Manase are putting a different spin on love and relationships with their latest performance, Where Is My Valentine.
he trio met at the first season of the Soul Food Comedy Roast in April 2014, and have performed together at a number of gigs, including Ballsy Comedy and Politics of Laughter, which were both fundraisers for Troopers Basketball Club. Says Ndiwenyu, "Troopers really gave us a great platform to develop ourselves, both as performers and as comedians. That's really what has given us the courage to keep doing shows. That's what we're looking for in 2015, opportunities to keep doing our own shows and growing Botswana comedy."
Where Is My Valentine is slated for 14th February 2014 at The Little National Museum. The show will feature the three comedians, along with music by Moletedi Ntseme, a 3rd year Theatre student at UB and with Lebowa Moroen. Lebogang Disele, one of the event organisers says, "We are really trying to develop local talent, and we like to do things a little differently. So it's not just about helping these guys develop their brands, but also giving young artists a platform to shine as well."
Tickets for the show retail at P100.00 and can be delivered.