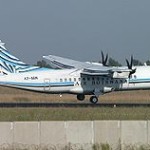 ADSoftware, one of the global leaders in the aviation dedicated software solutions arena, has suceccessfully implemented for AIRPACK Fleet Management System and Logistics Solutions at Air Botswana.
Air Botswana has recently implemented a maintenance package that includes fleet management, inventory and logistics control, documentation management, security management and reliability statistics reports.
Though not required by any regulation, Air Botswana elected to proactively implement a framework of internal controls over its maintenance department as part of its continuing efforts to adopt global best practices.
To achieve this in the most efficient way, Air Botswana chose AIRPACK as its ERP software platform. ADSoftware has first migrated the data of the three ATR42-500s; two ATR 72-500s and two BAe146 -100s owned by the airline. AIRPACK Suite was then installed and implemented across twenty users; trained on site by two experts responsible for the start-up assistance of the system.
"For the first six months of running the solutions, Air Botswana will be monitored closely by our team to allow the last required customizations and modifications necessary to optimize usage of the system," says Fred Ulrich CEO of ADSoftware.
Air Botswana is an IATA member and has successfully received its Operational Safety Audit (IOSA) certification; the benchmark for global safety management in the airlines industry.
ADSoftware is a fifteen year old IT company based in France, with offices in Thailand, Brazil and South Africa. Specialising in aviation software, the company has developed a fleet management system and logistics package called "AIRPACK". This system meets the needs of airlines operating fleets between 2 and 50 aircrafts, as well as Maintenance and Repair Organisations (MRO) and Continuing Airworthiness Management Organisations (CAMO).
Air Botswana, the country's national carrier is the flagship and pride of Botswana. Today, Air Botswana enjoys a wide and acclaimed reputation – quite disproportionate to its modest size as a model, quality airline. Currently, Air Botswana operates and maintains a fleet of BAE 146 as well as ATR42-500 and ATR72-500 advanced turbo propeller aircrafts which operate daily domestic and regional scheduled flights. The airline has also just recently acquired two AVRO-RJ 85 aircraft in line with its expansion plans.
There are plans to add more planes to the fleet during the course of the current strategic plan.  In addition to domestic routes, the airline operates regional flights to South Africa, Zambia and Zimbabwe.