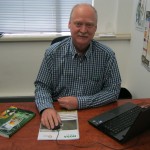 MICROmega Holdings' subsidiary company NOSA has secured a cross-border tender with the Botswana Power Corporation for the provision of Occupational Health, Safety and Environmental (HSE) risk management services for the Morupule B Power Station and associated projects in Botswana.
The construction of the 600 MW Power Station project is funded by an international consortium, including the World Bank. NOSA will provide the full suite of HSE services such as risk management surveys, assessments, resources, and implement new risk management systems. As part of its support, NOSA is providing the Morupule B Power Station project with five full time Safety Officers and four full time Environmentalists to be located at the project site.
"The HSE consultancy commenced on 6 November 2012, and will extend over the next 11 months", says Justin Hobday, NOSA Managing Director.
"Our worldclass products, together with our experienced on-site contractors will ensure that the Morupule B Power Station receives a comprehensive HSE service". Hobday added that NOSA is thrilled to be working on Morupule B which is considered a strategic priority project that will help boost economic growth, jobs and access to electricity. Joseph Phalalo, Risk and Compliance Manager for Botswana Power Corporation stated: "The NOSA contract was awarded after a thorough and rigorous procurement process that complied with internationally-accepted guidelines and benchmarks, and we look forward to benefiting from NOSA's proven track record in offering HSE services."
"The awarding of this tender reiterates NOSA's ability to provide diversified health and safety services across a broad sprectum of projects and sectors", said Greg Morris, MICROmega Chief Executive Officer. "We welcome the opportunity to work on this project in a key strategic sector and to be contributing to the uplifment of a neighbouring African country."
NOSA (Pty) Ltd is a wholly owned subsidiary of MICROmega Holdings. It is the leading global supplier of occupational risk management services and solutions, and is proudly the most recognised brand in the SHEQ risk management industry. It is the exclusive provider of both the NOSA Five Star Grading System and SAMTRAC.