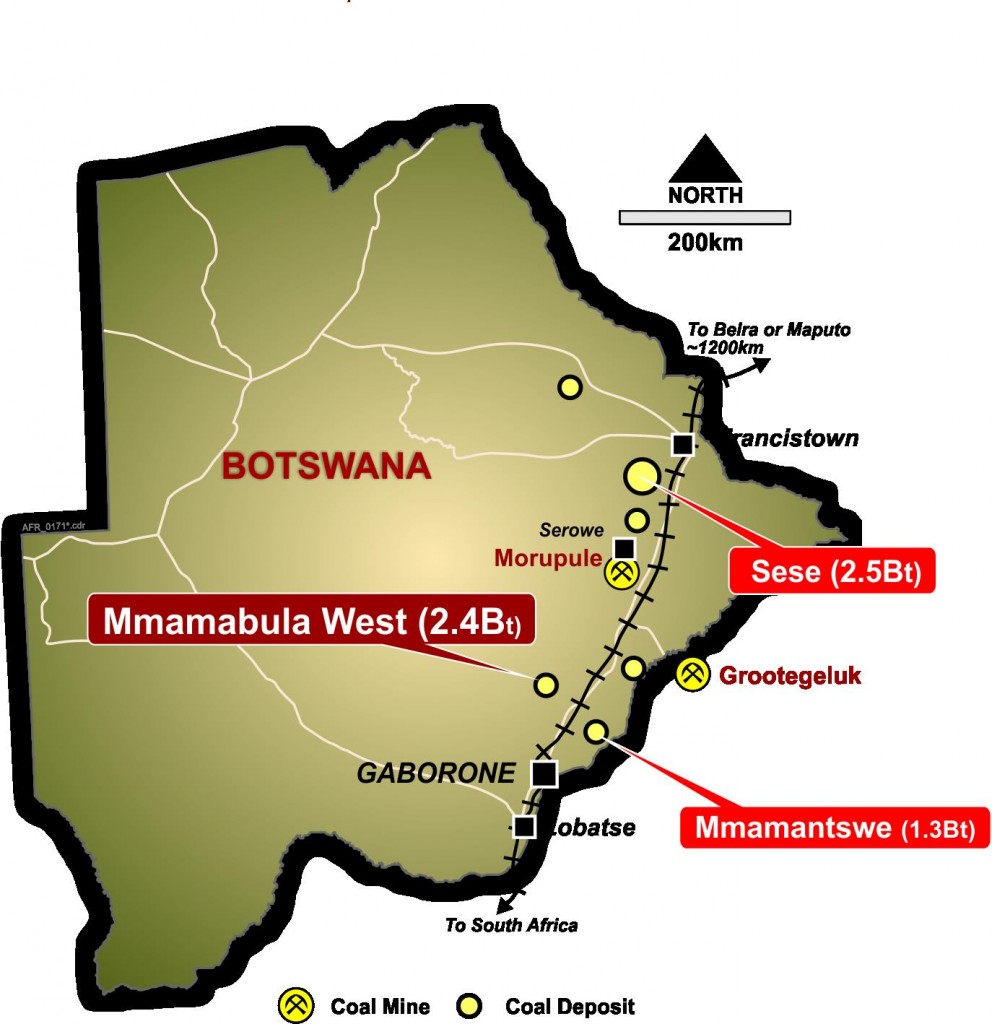 African Energy says a Prefeasibility Study for an underground coal mine based on a 200Mt portion of the A‐Seam within the Mmamabula West Indicated Resource has been completed.
According to the company, the study evaluated a 4.4Mtpa ROM operation producing up to 3Mtpa of 6,200kcal/kg (26 MJ/kg air dried basis), low ash, low sulphur, export quality thermal coal over a 20‐year mine life.
"The mining study evaluated industry standard bord‐and‐pillar extraction of the best quality selection of the A‐Seam using a fleet of up to five continuous miner sections. ROM coal from underground mining will be crushed, screened and processed using a conventional dense media separation drum and spirals plant," it said.
African Energy study also found out that initial capital cost estimate of U$113M for an owner operated mine and coal handling and processing plant and an estimated ROM operating cost of U$17/t with the Estimated Product operating cost of U$25/t at the mine gate.
"(Theres is a)…room for reductions in capital cost and operating cost through optimisation of mining fleet, continuous miner performance and pillar extraction," the company said, adding that a formal request for a further two‐year extension to the prospecting licence was submitted in late March.
The mine has been designed as an underground operation due to the depth of the A‐Seam. Access will be via a box‐cut with a twin decline system and ventilation provided by means of a 6.5m up‐cast ventilation shaft and intake through the declines.
"Bord and pillar mining with continuous miner machines has been selected as the most appropriate mining method for A‐Seam as this will not sterilise the overlying, lower quality K‐Seam. Each development section will have nine roads, and a road width of 6.5m has been selected as appropriate for this depth of mining," said African Energy.
"Coal cutting will be by continuous miners, and the Joy 12HM37 was used as the basis for the mine scheduling and cost estimation due to its ability to cut 3.2 to 5.2m high seams. A production rate of 880,000tpa per machine has been used as the basis for estimate. On this basis, five continuous miners operating in five production sections and supported by shuttle cars for coal extraction to the main decline conveyor will achieve full production of 4.4Mtpa ROM."
African Energy added that it sub-contracted Scorpion Mineral Processing (SMP) to undertake a pre‐feasibility study of the coal handling and processing plant (CHPP) design and discard storage facilities.
"The process design for the CHPP was based on producing a 26MJ/kg (adb) clean coal. The plant capacity is 4.6Mtpa ROM feed from two modules with the second module coming on‐stream in the fifth mining year. With the ROM production planned at 4.4Mtpa the CHPP can accommodate improvements in mining productivity without significant capital spending."
"ROM coal will be supplied from the underground mining operations via the decline conveyor and stockpiled prior to crushing to a 40mm top size. Coal in the 1mm to 40mm fraction will be passed though a dense media separation plant (DMS), whereas the material under 1mm will be processed through spiral concentration. This is a well‐proven flowsheet used in many South African coal mines. A project implementation plan has estimated that the CHPP will take 21 months to complete from initial procurement to commissioning."
Water for the project will be sourced from the company's Artesia Wellfield, approximately 50km to the east of the project , where an annual capacity of 8,000ML per annum has been modelled. The capital cost estimates for the project include a provision for a 250mm diameter pipeline from the wellfield to the mine site.
The company added that product coal will be initially trucked (via a contract operation) from the mine stockpiles to a storage and rail loading facility at the nearest rail siding, some 60km to the east of the project.
Coal will be loaded into trains at the siding for transport to market. The two principal markets that have been identified for Mmamabula West coal are Eskom's power station fleet in South Africa (where a lower CV, higher yield, lower cost product would be suitable), and the seaborne market bound for Asia. Existing rail (and port) infrastructure provides access to both markets.
Transnet Freight Rail have also announced they will build a new heavy haul rail link between the Waterberg coalfields and their heavy haul coal network which would improve logistics and lower rail tariffs.
"At current coal prices, the current rail tariffs are marginally too high for profitable export operations from Mmamabula West."
African Energy acquired the Mmamabula West in December with the project acquired due to its relatively high in‐situ coal quality and perceived potential as a source of export coal.
A prefeasibility study (PFS) commenced in January 2014 to evaluate an underground mine producing export quality coal from and trucking this to a rail siding and loading facility 60km to the east.
The coal at Mmamabula West occurs in three seams, with the majority occurring the K‐Seam and A‐Seam. These two seams are 4m to 6m thick and occur at depths of between 50m and 210m. The K‐Seam average depth is 105m, and the deeper A‐Seam averages 130m to the top of the seam.
African Energy said a global resource of 2,433Mt has been estimated for the project.