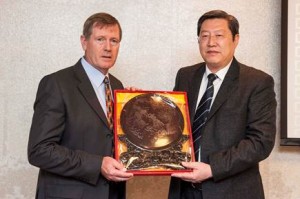 NOSA (Pty) Ltd recently held an Occupational Health & Safety (OHS) meeting with delegates from the Chinese province of Shandong.
Following an introductory meeting in the Shandong Province in 2012, various government officials from the Province requested a follow-up meeting with NOSA to better understand how the company could assist in improving OHS conditions for organisations within their Province.
The delegation from China was led by the Vice Governor of the Shandong Province Mr. Zhang Jian Guo. Accompanying him was Executive Vice President of Shandong's Association for Friendship with Foreign Countries, Zhang Jigang; Director-General of Industry & Commerce Administration of Shandong Province, Niu Qizhong; and Director-General of Quality & Technical Supervision Bureau of Shandong Province, Cong Daming.
The Vice Governor and delegates were presented with the latest developments in the OHS industry in South Africa, as well as NOSA's diverse product and service offering.
Greg Morris, MICROmega Chief Executive Officer said: "Our meeting was a success and we are pleased to report that NOSA has been formally invited to participate in Shandong Province's initiative to improve worker safety.  To get the support we received from the Vice Governor will undoubtedly accelerate NOSA's business development in the Shandong Province".
Shandong is the second most populous province in China and is the biggest industrial producer, and one of the top manufacturing provinces in the country. China has industrialised faster than any other country in the world. As such, the drive towards improving occupational health standards in the country continues to be on the increase. This rapid industrialisation has benefited NOSA enormously.
"In recent years NOSA has experienced demand for its product and service offering in regions such as China. Our range of products and services is recognised as an international benchmark in OHS risk management industry, and we are pleased to impart our knowledge and assist international clients in meeting their OHS targets", said Morris.
"With South Africa being a member of BRICS, and with a global trend towards improving OHS standards, we consider NOSA's role as integral to information sharing with the other member countries", Morris stated.
NOSA is in the process of launching an international e-learning programme for its flagship training course SAMTRAC, which was voted 'the most recognised and preferred short course' by the SHEQ industry in a SAIOSH 2012 survey.
SAMTRAC International's e-learning platform has been designed to be fully interactive and is aimed at providing a practical experience that equips the learner with the knowledge and skills to implement and manage an OHS management system. The online course will be available in Mandarin within two months.