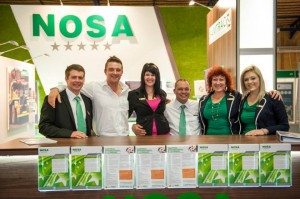 MICROmega Holdings' subsidiary NOSA (Pty) Ltd was once again honoured to host the 2013 annual NOSHCON conference at Champagne Sports and Golf Resort in the Drakensberg recently.
For 52 years NOSHCON has maintained its position as Africa's leading international occupational risk management conference and exhibition. The event brings together well known speakers, learners, suppliers and buyers from across the globe within a relaxed but professional environment. NOSHCON is renowned throughout the industry for its innovative features and excellent exhibitors who are amongst the leading brands in Health, Safety and Environmental management (HSE).
"As an organisation NOSA strives to enhance the values of the occupational risk management industry while ensuring that the industry as a whole continues to grow and develop," states Justin Hobday, NOSA Managing Director. "We are honoured and privileged to host an annual event of this nature and to recognise organisations and individuals as leaders in HSE management within their respective fields", adds Hobday.
This year's conference was one of the largest NOSCHCON's with an increase in both exhibitors and delegates when compared to 2012. This year NOSHCON also introduced two new exciting products to the NOSA suite: IMS (Incident Management System) and SAMTRAC e-learning.
Greg Morris, Chief Executive Officer of MICROmega Holdings says: "NOSA is committed to investing in new product and service innovation to meet the growing needs of its diverse customer base. The company continues to benefit from the pressure on organisations to comply with HSE standards and has therefore seen a continued growth in business over the past year. In order to meet the increased demand for services NOSA opened five new offices in 2013 and remains on track to broaden its domestic and global reach."
"NOSHCON was introduced to provide a platform for HSE professionals to share their knowledge and the International Awards Banquet allows us to give recognition to organisations and individuals that continuously commit to providing safe and healthy work environments for employees", states Hobday. "Recipients of NOSA awards are recognised internationally as organisations that show measurable and remarkable dedication to maintaining the highest levels of excellence in occupational risk management performance." A full list of the NOSHCON awards is published at the end of this press release.
NOSCHCON also saw a team from NOSA's First Aid division complete 30 straight hours of CPR with the objective of drawing attention to the importance of first aid in the workplace. NOSA offers companies and members of the public First Aid courses at various levels and, in 2014 the team will attempt to break the Guinness World Record for continuous CPR over a seven day period.