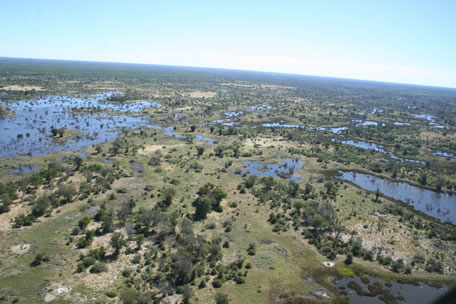 Botswana economy will expand in 2015 and the positive growth will mainly be driven by the non-mining sectors including Trade, Hotels & Restaurants, Finance and Banking, and Social & Personal Services, parliament was told.
Minister of Finance and Development Planning, Kenneth Matambo said in his 2015/2016 budget speech that despite continued uncertainty over the global economic recovery, the outlook for the domestic economy remains positive.

"Real GDP is estimated to have grown by 5.2 percent in 2014, and forecast to grow at a slower rate of 4.9 percent in 2015," former Botswana Development Corporation (BDC) Managing Director said. He said activities such as increased diamond cutting and polishing; establishment in Selebi-Phikwe of the Steel Manufacturing Plant, and the Horticulture Agro-Processing Plant which is expected to be commissioned in the first quarter of 2015/2016; and the rolling out of the postal and banking services to the rural areas are expected to contribute to the growth of the non-mining sectors in the future.
"These sectors in turn, are expected to contribute to growth and economic diversification, thus creating employment opportunities, and empowering citizens." Cluster Development Approach Matambo also told parliament that government has adopted the Cluster Development Approach as a practical strategy to achieve economic growth and diversification. The four identified clusters are Diamond, Tourism, Cattle, and Mining, comprising of coal, copper and other minerals excluding diamonds.

"Some work has already started on the development of the Diamond cluster." The concept of clusters refers to a group of inter-connected firms, suppliers and related industries, while a value chain is a sequence of activities that firms operating in a specific industry perform in order to deliver a valuable product or service, revealed the minister.

He said another industry where the cluster approach will be introduced is the tourism sector, which continues to be one of the key sectors that contribute to the diversification of the economy. During 2013, tourist arrivals were estimated at 2.4 million while receipts amounted to P6.24 billion. Government is reviewing the Tourism Policy to address local, regional, and international challenges experienced within the tourism industry.
"Such a review process is in its final stages and the revised Policy is expected to create a more supportive and enabling environment for local investors. Furthermore, Government is reviewing the Wildlife Conservation and National Parks Act No. 28 of 1992 and the revised Act is expected to be considered by Parliament during 2015/2016 financial year."