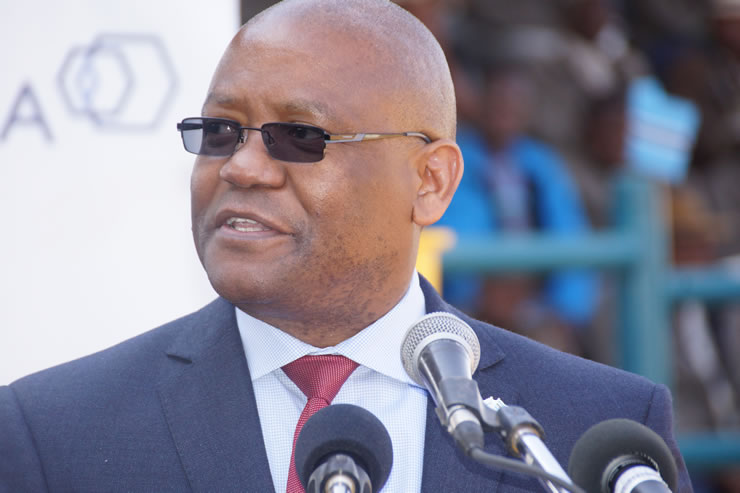 Debswana Diamond Company has handed over cattle judging ring called The Diamond Arena to the Ministry of Agriculture at an event was graced by the President Ian Khama and the Minister of Agriculture, Patrick Ralotsia.
The newly built Diamond Arena is a state of the art structure that is expected to facilitate the showcasing and auctioning of livestock in a manner that is on par with international standards. The arena will also be leased to the public as a venue for various activities in order to generate funds for its upkeep and maintenance.
The facility was funded by Debswana through its Corporate Social Investment Programme to the tune of P 2.7 million. It has exceptional features such as large capacity and stadium-style seating, ablution blocks, storage and selling stalls for food and drinks. Over and above that, the Diamond Arena represents the dreams of many farmers in Botswana, a place where they can showcase their hard work during the year and be recognised in the fast growing agricultural sector.
Balisi Bonyongo, Managing Director of Debswana said the company's commitment to the development of agriculture is unwavering. He added that they have demonstrated this through our annual sponsorship of the National Agricultural Show to the tune of up to P700 000 annually over the past eight years.
"This sponsorship has improved the quality of the agricultural shows thus encouraging Batswana from all District Shows to actively participate in agriculture in order to learn, share experiences and appreciate improved agricultural products ranging from livestock to crops," he said.
"Debswana recognises the need for Botswana to have a sustainable and diversified economy, as such we continue to support investments in the agricultural sector, which lead to improving its productivity, enhancing rural incomes and diversifying the economy. I encourage Batswana to take agriculture to the next stage, that is, beyond the subsistence level."
Bonyongo also mentioned the importance of fully exploiting the structure and not to leave it under-utilised as this will not fulfill the primary objective it was meant for. The Diamond Arena was officially handed over to the Ministry of Agriculture on the same day.