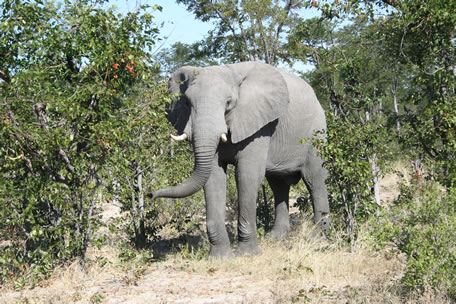 Populations of African elephants are declining alarmingly in many areas because of poaching, habitat loss, and conflict with expanding human populations. Botswana is one of the most important elephant sanctuaries in Africa.
The country harbours the world's largest elephant population, representing about 40% of all remaining African elephants. The future conservation of savanna elephants will largely depend upon how populations fare in the remaining strongholds of the species.
The people of Botswana have an important role in conserving its elephants and recognise they are custodians of an import global heritage. Fellow elephant range states have the right to determine how best to conserve their national elephant herds.
The decision to destroy ivory stockpiles aims to deter consumer demand, the illegal ivory trade and elephant poaching. Its effectiveness is a matter for each country to determine for itself. Since 1989, some African countries have destroyed about 150 tonnes of ivory. Seventeen countries have carried out 25 ivory destruction events.
Despite this the reality is that 20,000 elephants are still being killed annually for their ivory. In Botswana, we do not to destroy ivory because we have told communities living with elephants that there is value in conserving elephants for ecotourism and emphasizing that the value of a live elephant should be upheld at all costs. Burning ivory would demonstrate to the communities that the animal has no value. As Botswana we prefer to not burn ivory or rhino horn or any other wildlife product which can be used to demonstrate to the wider world the value of nature and the importance of conservation.
Botswana has a strong reputation for conservation as home to Africa's largest elephant population; we are committed to maintaining this status and looking at new ways to preserve our commitment to elephants and our people. We do not believe that we should conceal ivory in warehouses or publically destroy it, in order to save elephants. In this regard in 2014, Botswana unveiled a unique elephant sculpture made up of ivory in the arrivals hall at Sir Seretse Khama International Airport.
The statue serves as a reminder to people who pass through this building each day that conservation of this iconic species is our collective responsibility. Complemented with a conservation awareness message, we are saying that one live elephant is worth so much more than all the pieces of art made from ivory. The statue is a lasting memorial to raise local, national and global awareness about the devastating impacts of illegal trade in elephant ivory and the ongoing determination of Botswana and the global community to put an end to it. No one profited from this contraband and it provides a long term opportunity to raise public awareness. We intend to deliver this conservation message in a similar manner with other ivory. We intend to use the product from animals that have died naturally or slaughtered by poachers for awareness to keep others alive, at least from poaching.
Government believes that it is critical that we develop strong symbolic messages and strengthen efforts to save Africa's elephants on all levels, starting locally with the communities that coexist with elephants to globally with the countries where demand for ivory is highest.
Botswana's accomplishment stems from political will brought about through transparency coupled with successful programs within communities and zero tolerance towards poaching and sustainable management of the country's natural resources. Being custodians of globally endangered species comes with tremendous levels of responsibility. It also requires budgetary empowerment to deploy even more sophisticated and innovative methods and equipment than those used by poachers and its success needs to be supported by donor organisations and states.
Botswana will attend the Giant's Club Summit in Nanyuki, Kenya at the end of the month to represent its commitment to finding lasting solutions to ensuring the longevity and sustainability of Africa's wild elephant population. For us the burning of ivory is like putting the final nail in the coffin of a once magnificent animal by destroying its remaining tusks.
We believe we should preserve and protect whatever existing quantities remaining as a consistent reminder of how mankind's greed leads to the extinction of our planet's flora and fauna. We cannot burn the shame associated with this and just hope it will disappear in smoke, therefore we will not attend the event of ivory burn event taking place after the Summit.