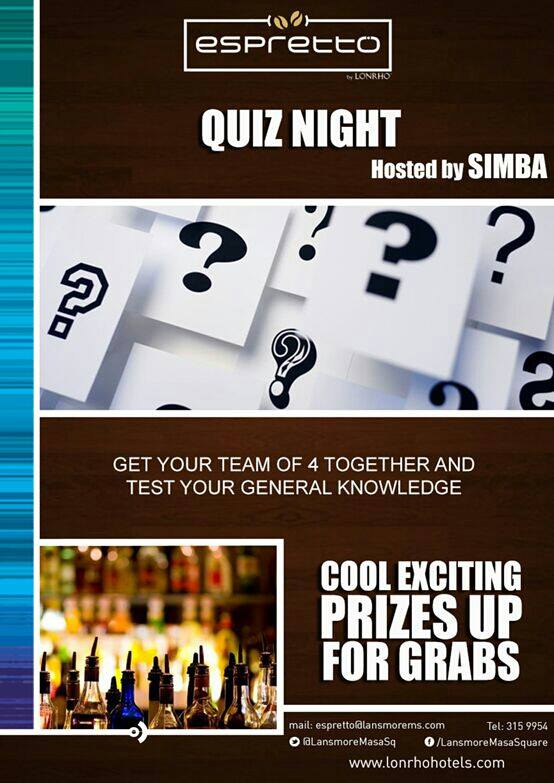 Regular attendees at Lansmore Masa Square's Espretto Quiz Nights can rejoice as the popular trivia platform has returned with a bang. Hosted by the ever-popular Quiz Master, Simba Mudereri, the Quiz Night recently made its return for 2015. Back with a bang, the weekly instalment will take place in its usual 19h00 time slot at Espretto.
Espretto Quiz Night was introduced in 2014 as a way to encourage trivia junkies to come together and unwind after a day at the office. Whether a die-hard fan of the evenings or a newbie keen to try their luck at taking home the big prize each week, the Quiz Night welcomes all. Participants gather in teams of a maximum of 4, and register on the night.
Said Luke Wooley, Deputy General Manager at Lansmore Masa Square, "Espretto Quiz Nights are back by popular demand, as we had so many regulars who returned each week keen to best their own records from quiz nights prior. It's a great way to bring people together after the usual dreariness of a Monday in the office, and enjoy a little healthy competition over a drink or two. We're thrilled to have kicked off the Quiz Nights for 2015 and look forward to even more excitement, triumphs and defeats!"
Each Quiz Night sees 7 rounds, ranging from "Who's The Face" to "Guess that cocktail", "Movies", and "Sport" categories. Teams respond to as many questions as they can, and are able to use a "Joker" on the round they feel most confident about to double their points earned within that round. The winning team is the group with the highest points at the end of the night as tallied by the Quiz Master, against the background of anxious, excitable participants.
Espretto Quiz Nights are held every Monday at 19h00 at Espretto, Lansmore Masa Square. Registration is free and takes place on the night.