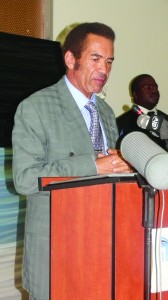 President of the Botswana, Lieutenant General Seretse Khama Ian Khama was on Friday 7th December expected to lead proceedings at an event to commemorate Jwaneng Mine's 30 years of diamond production.
The event was to be held at Jwaneng Showground, thirty years after Former President, Sir. Ketumile Masire officially opened the mine and dubbed it 'The Prince among Mines'.
Proceedings were scheduled to start at 08h00 and finish at midday. Amongst the dignitaries will be the Minister of Minerals, Energy and Water Resources, Kitso Mokaila, Member of Parliament for Ngwaketse West, Mephato Reatile, Former presidents of Botswana, Sir. Ketumile Masire and Festus Mogae, Jwaneng Town Mayor, Amos Jahana, and Debswana Board Chairman, Eric Molale.
Since its inception in 1982, Jwaneng Mine has maintained its status as the richest diamond mine in the world by value, churning out more than 10 million carats every year and contributing over 70% of Debswana's revenue.
Jwaneng mine is currently been expanded through the over P3.5 billion Cut 8 Project which is hoped will expand the life of the mine.
So far 190 million tonnes of waste has been mined and when the contract is complete, a total of 660 million tonnes need to have been mined. The company wants the first ore from the project in three years time.