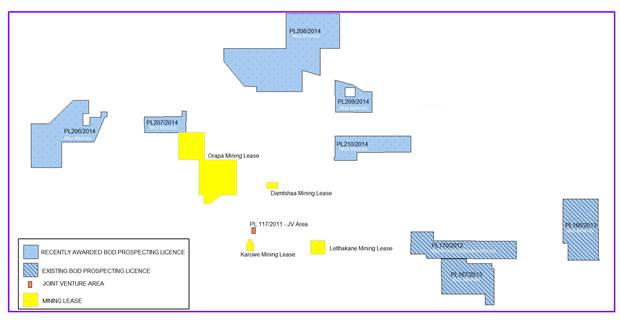 Botswana Diamonds plc has announced the award of five new prospecting licences ("PLs") in the Orapa region of Botswana.
These PLs (PL206-210/2014) are high priority target areas for Botswana Diamonds.  The new licences cover a total area of 1,357 sq km and will be explored under the ongoing joint venture between Botswana Diamonds and Alrosa, the Russian diamond major.
The ground was identified as high priority by Alrosa.  Two of the licences, PLs 206/2014 and 208/2014 are of particular interest because historically they posed exploration challenges due to depth of sand and swamp conditions.  Neither contains known kimberlites but the Alrosa analysis indicates the presence of kimberlites.
Exploration on this new ground will be in addition to the work being carried out by the partners on the small PL117/2011 (2.9sq km) in the Orapa area. Two drill targets have already been identified on PL117 and mineralogical analysis of the samples is underway currently in Russia. The first batch of results is expected to be announced in the coming weeks, with more to follow 6-8 weeks later. A drill programme will be implemented on PL117.  Alrosa is the world's largest global diamond producer with 17 active mines in Siberia and, producing 36.9 million carats in 2013, they account for around 25 per cent of global diamond production in terms of volume.
John Teeling, Chairman of Botswana Diamonds, said this is the good news we have been waiting for.  The new licence awards are important to Botswana Diamonds.
"We did not have rights over some of the targets identified by Alrosa.  We now have some of the top targets on our licences.  In particular ground to the north and west of the main Orapa area which has problems with swampy conditions and deep sand.
"Little exploration has been done on these areas with no known kimberlites to date.  Alrosa believes the ground has kimberlites and that their technology and expertise will find them.  While setting up the fieldwork program on the new ground we will be drilling PL117.
He said they have a joint budget of $1 million for 2014 and have funding for it.