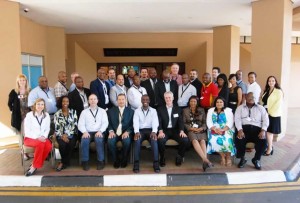 Botswana Insurance Company Limited (BIC) recently co-hosted the SSP Africa Users Group Forum. This was the first time the conference was held in Botswana. The conference has previously been held in Tanzania, Kenya and South Africa.
The conference, which was held at the Gaborone Sun, was themed "Innovation and Insurance, the future" and attracted decision makers from leading insurance companies in Botswana, Kenya, Malawi, Mozambique, Nigeria, South Africa, Swaziland, Tanzania, Uganda and the United Kingdom.
The objective of the forum was for delegates to meet with industry experts to discuss: Ways of driving business growth though technological innovation, Product development vital to the insurance sector, Thought leadership in insurance, Business intelligence for insurance companies.
All the insurance companies that participated in the forum are users of an insurance platform provided by SSP. SSP is an international IT company, based in the UK, providing world class software systems for the insurance and financial services sector.  The delegates attending the conference had lively discussions on developing the insurance sector in their respective countries utilising SSP's progressive insurance systems.
Being a trusted partner to SSP and country host has left BIC optimistic about the country's ability to host high quality events. It was the first visit to Botswana for many of the regional and international delegates. A number of them expressed interest in exploring Botswana as a possible investment destination.
BIC's Managing Director, Dziki Nganunu, indicated that being both a host and participant in the conference has been eye opening. He emphasised that BIC has already taken a technology oriented approach to developing the company but, through the conference, has been exposed to new industry developments and trends which could be beneficial to the insurance market in Botswana. Tapping into these areas are BIC's next steps to ensure that, as a leader in the insurance industry, the company continues to meet and exceed customer expectations.
BIC is the only AA-rated insurance company in Botswana. It has been in existence since 1975 and is committed to providing exceptional quality products and services to its clientele. The company focuses on commercial, personal and specialized insurance. BIC has also contributed tremendously to empowerment programs, employment creation and is a company in the private sector that looks towards diversification and growth of Botswana's economy by developing insurance and reinsurance as one of the key sectors for attracting foreign direct investment and growth opportunities.